Cinereous Vulture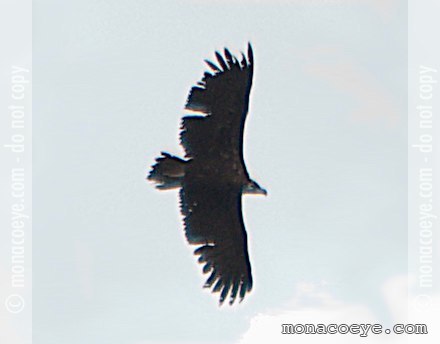 Photos copyright: monacoeye • Verdon Apr 2010 • Do not copy without permission

Bird name: Black Vulture
Latin:
Aegypius monachus
Other: Cinereous Vulture, Monk Vulture, Eurasian Black Vulture • Vautour moine (Fr) • Buitre negro (Es) • Avvoltoio monaco (It)

Family:
Accipitridae
•
Old World Vultures
, Birds of Prey
Range:

Similar:
A program for reintroducing the Black Vulture in the Gorges du Verdon was started in 2005. So far about a dozen have been released. I saw this one a couple of days ago.
The Black Vulture's range extends from Spain, in the west, to the eastern Himalayas, with a notable absence in most of central and eastern Europe, where it is being reintroduced in several locations.
Although not very clear from this distant photo, the Black Vulture has dark markings on the face, and unlike the
Griffon Vulture
, no lighter coverts. The tail of these European vultures appears proportionally short when compared to the Golden Eagle and other smaller birds of prey.
The Black Vulture, also called Cinereous Vulture or Monk Vulture, is one of the largest birds of prey in the world, with close to a three-metre wingspan. It is dominant at feeding sites.
The Andean Condor is only slightly larger and not in the same family grouping. This Eurasian Black Vulture, an
Old-World Vulture
, is also not directly related to the similarly named
American Black Vulture
, which, like the Condor, is a
New World Vulture
.
The Black Vulture is classed as Near Threatened on the IUCN Red List.