Black Throated Mango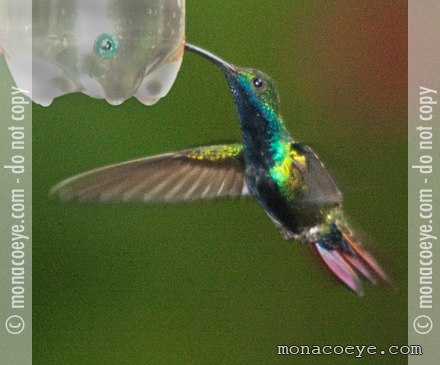 Copyright: monacoeye • Folha Seca, Brazil, 2009 • Do not copy without permission

Bird name: Black Throated Mango
Latin:
Anthracothorax nigricollis
Other: Mango de Garganta Negra (Es) • Beija-flor-de-veste-preta (Br)
Family:
Trochilidae
•
Hummingbirds
Range: Panama to Brazil
The Black-throated Mango female, below, is easily recognised by its black-on-white stripe which runs down from neck to tail. The male has a blue throat, with emerald border. Both have a purplish tail feathers.
The immature has rufous colouring around the face and throat, "see more photos" for one at the Canopy Tower in Panama.