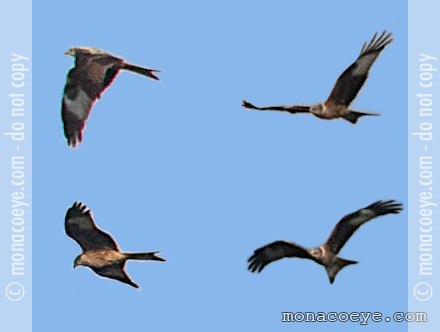 Photo copyright: monacoeye • Do not copy without permission • Eze, Oct 2009


Bird name:
Red Kite
Latin:
Milvus milvus
Other: Milan royal (Fr) • Nibbio reale (It) • Milano real (Es) • Rotmilan (De)

Family:
Accipitridae
•
Kites
, Birds of Prey
Range:
Similar:
A few flight shots of a couple of Red Kites during autumn migration on the Cote d'Azur. Red Kites are not typical residents of the Alpes Maritimes, but some fly along the coast during migration. About 40 were recorded flying past Eze in 2008. The peak day for migration, with between 5 to 20 birds recorded typically, is around the 23rd of October. These photos were taken on the 2nd of October.
There is just enough detail to see the main identifying feature of the Red Kite, its wide forked tail, which distinguishes it from the Black Kite in flight. The light "window" near the end of the wings is also lighter, and the body more rufous, than the corresponding areas on the
Black Kite
.
More photos...