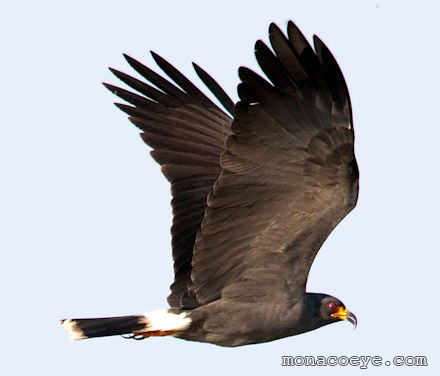 Photo copyright: monacoeye • Do not copy • Images: Mostardas, Brazil • November 2009

Bird name: Snail Kite
Latin:
Rostrhamus sociabilis
Other: Gavião-caramujeiro (Br) • Caracolero común • Elanio caracolero • Gavilán caracolero • Milano caracolero
Family:
Accipitridae
•
Kites
, Birds of Prey
Range:
Similar:
Snail Kites like nothing better than a large Apple Snail to eat - hence their name.
The farmer I was with, when I photographed these kites at a lake near Mostardas, told me that they were scavengers of rubbish, when I expressed surprise at the steady stream of them flying past. I don't think they are scavengers, but when we visited the lake they were flying past about one every 200 metres.
The males (on left, below) are dark grey, with
deep red legs, ceres and eyes
and a thick black band on the tail behind a white rump. All
Snail Kites have very hooked bills
.
Females (on right, below) also have red eyes but yellow-orange legs and ceres,and brown wings with white showing rather like a common buzzard.
I would assume the other two types shown above with lighter faces (top two in the composite of birds on posts) are juveniles.
Snail Kites live mostly in eastern South America and the Caribbean, though they can also be found in Florida.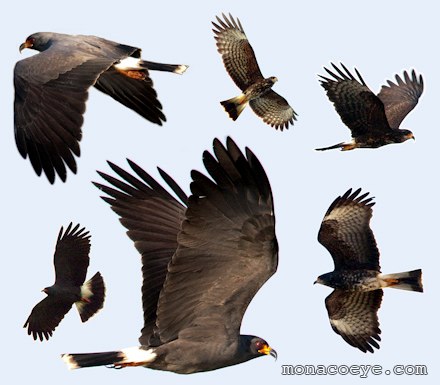 More photos...