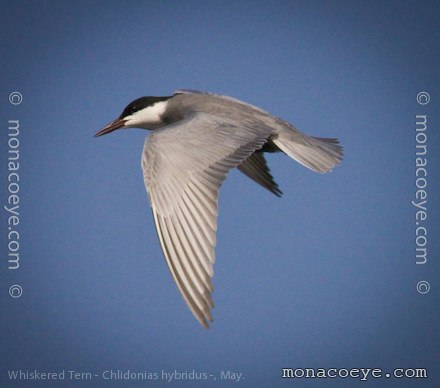 Copyright: monacoeye • Danube Delta, May 2009 • Do not copy without permission

Bird name: Whiskered Tern
Latin:
Chlidonias hybridus
Other: Guifette Moustac (Fr) • Fumarel cariblanco (Es) • Mignattino piombato (It)
Family: Laridae • Terns
Range: Widespread Africa, Eurasia, Asia, Australasia.
The Whiskered Tern is the largest of the Marsh Terns. More often seen in ones and twos than in large groups. They were very common in some areas of the Danube Delta in May, which is when they return to Europe from Africa.
Whiskered Terns often hover over rivers and lakes with their head down looking for fish. The main confusion species where I saw them in the Danube Delta and Nice was the Common Tern, which is whiter below has a longer, pointier, redder bill with black tip and long tail feathers. The Whiskered Tern in breeding plumage is sooty below, with dark red bill and legs, and short tail.
More photos...