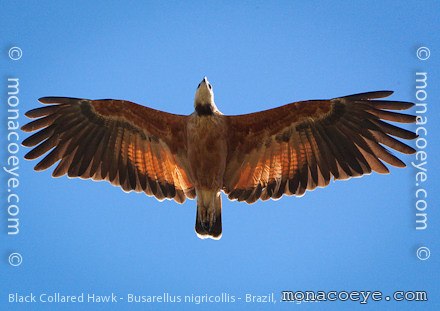 Copyright: monacoeye • Do not copy • Pantanal, August 2011

Bird name: Black Collared Hawk
Latin:
Busarellus nigricollis
Other: Gavião-belo (Br) • águila colorada (Es)

Family:
Accipitridae
•
Hawks
, Birds of Prey
Range: Mexico to Uruguay incl Brazil, Paraguay, Argentina, Venezuela etc
Similar: Savanna Hawk
I saw Black Collared Hawks regularly during my week in the Pantanal (but nowhere else). Difficult to drive down the Transpantaneira highway without seeing one.
The Black Collared Hawk is an attractive hawk, and reminded me of the Savanna Hawk, but was easy to identify by its black collar, even in the juvenile (see further below). Head white. In adults body is mostly rufous tones with blackish flight feathers, but juveniles have light patches - especially on chest - and are browner. Often by roadsides or riversides. Takes up similar positions to Roadside Hawks.
Below: Adult Black Collared Hawk taking off, Pantanal, Brazil, Aug 2011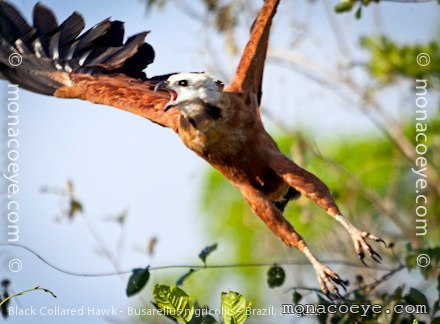 Below: Juvenile Black Collared Hawk, Pantanal, Brazil, Aug 2011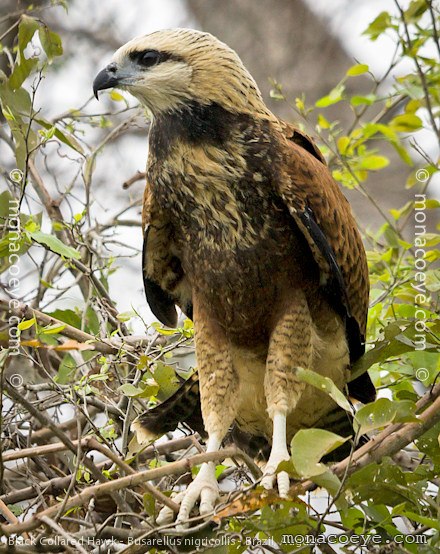 More photos...