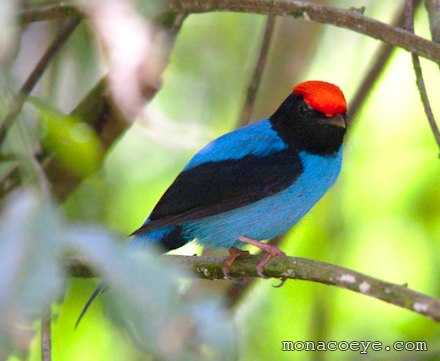 Copyright: monacoeye • Do not copy • Itatiaia & Ubatuba November 2009

Bird name: Blue Manakin
Latin:
Chiroxiphia caudata
Other: Swallow-tailed Manakin • Tangará (Br)
Family: Pipridae • Manakins
Range: Atlantic Forest: south Brazil, Paraguay, northeast Argentina
The Blue Manakin is a poster bird for the Atlantic Forest in southeastern Brazilian. It is very vocal and the male has a fantastic blue coat and red cap, with black head and wings. Like many other manakins the female is a cute little green bird with pink bill and legs. She has forked longish tail feathers (see bottom photo). The juvenile (directly below) is duller with a greenish coat.
Blue Manakin males group together in leks where they perform a courtship ritual in front of a single female. Usually one adult male and two sub-adult males. All the photos of males here were taken at leks. Blue Manakins often live at the edge of forest. A dark and leafy place - not ideal photographic conditions!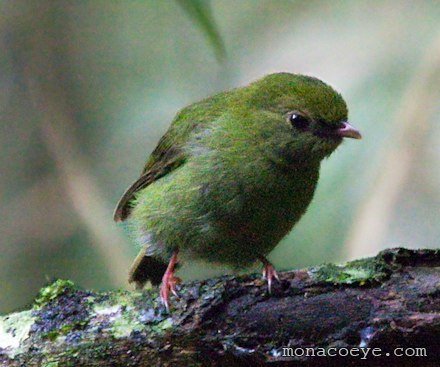 More photos...