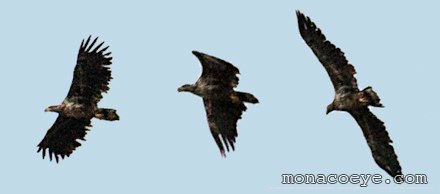 Photos copyright: monacoeye • Danube Delta, Romania • May 2009 • Do not copy without permission

Bird name: White Tailed Eagle
Latin:
Haliaeetus albicilla
Other: Sea Eagle • Erne • Ern • White-Tailed Sea-Eagle • Pygargue à Queue Blanche • Grand Aigle de Mer • Aigle Barbu
Family:
Accipitridae
•
Eagles
,
Sea Eagles,
Birds of Prey
Range:
Similar:
A superb bird, with a massive beak, the White-Tailed Eagle has a two metre wingspan and is the fourth largest eagle in the world. They can live to thirty years old.
The White Tailed Eagle is rare in Europe so the Danube Delta is a good place to see one. As this one approached on Caraorman Island he was mobbed by crows and then disappeared again.
More photos...