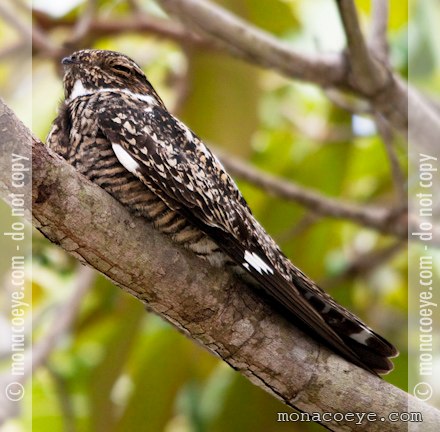 Photo copyright: monacoeye • Do not copy • West of Panama Canal • 30 April 2010

Bird name:
Common Nighthawk
Latin:
Chordeiles minor
Other: Atajacaminos común (Es), Añapero yanqui (!) o boreal • Bacurau-norte-americano (Br) • Bullbat
Family: Caprimulgidae • Nightjars
The Common Nighthawk breeds in North America and spends the northern winter in South and Central America.
This male (male has white throat and tailband, female brown) was seen about 100 km west of the Panama Canal at the end of April.
The Common Nighthawk can be differentiated in photos from the Lesser Nighthawk only with difficulty, especially when it is lying on a branch.
The telltale clues are the
staggered white wingbar
(usually squarer in the Lesser Nighthawk) which is also said to be proportionally higher up the wing in the Common. The
Common Nighthawk also lacks the buff spots of the Lesser
above the white wingbar on the primaries. And the general colouring is more contrasty than the Lesser. The Common Nighthawk is larger than the Lesser Nighthawk, despite the Latin
minor
species name.
Common Nighthawks lay their eggs on bare ground and hunt for insects on the wing at dusk or night. They can be seen lying on horizontal branches during the day.
More photos...