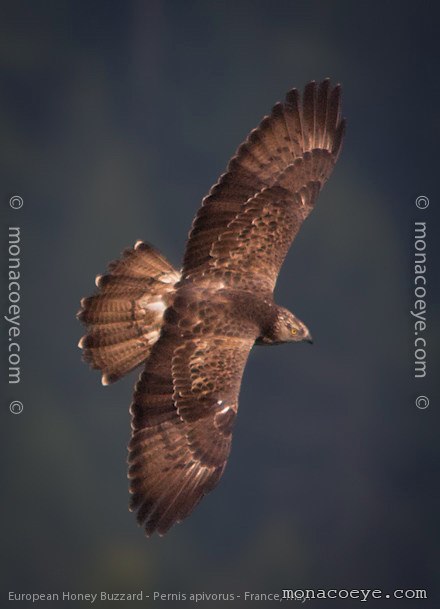 Copyright: monacoeye • Do not copy • Mercantour, France • May 2011

Bird name: European Honey Buzzard
Latin:
Pernis apivorus
Other: Bondrée Apivore (Fr) • Wespenbussard (De) • Wespendief (Nl) • Falco pecchiaiolo occidentale (It) • Halcón abejero (Es) • Tartaranhão-apívoro (Pt) • Bivråk (Sv)

Family:
Accipitridae
• Honey Buzzards, Birds of Prey
Range: Breeding - most of Europe, Russia. Migrates to sub-Saharan Africa.
Similar: Common Buzzard
The European Honey Buzzard, although not closely related to the Common Buzzard, does look rather similar to it. The main difference is a longer tail (equal to the width of wings) and neck, and a pigeon-like head.
Pictured above and below is a female I saw in the Mercantour in May.
Unlike adults, juveniles (see "more photos") have vertical, not horizontal, lines on the belly, and dark, not yellow, irises. They also have wider secondaries, yellow ceres and more barring in the wings.
The adult male pictured in "more photos" below has much white on the underside, but there are also dark morphs.
Another good identification mark for Honey Buzzards is the two dark bands near the underside base of the tail. They also tend to have more of an angle in the wing than Common Buzzards.
Honey Buzzards feed wasps to their young. They are believed to have a deterrent against wasp stings - hence their name.
Hundreds of Honey Buzzards fly down the coast past Monaco towards Spain and Africa every September - a magnificent sight.
Directly below, an adult female European Honey Buzzard, Mercantour, France, May.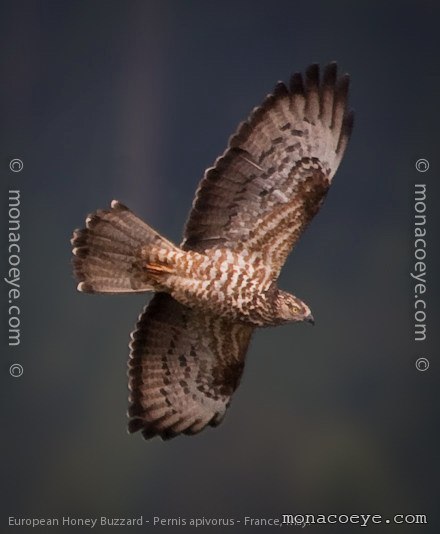 More photos...