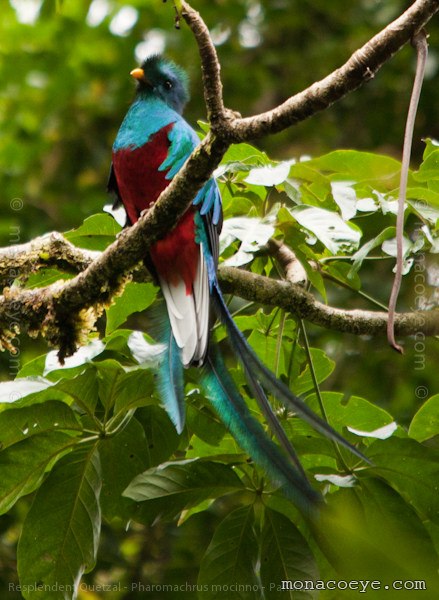 Copyright: monacoeye • Chiriqui, Panama, May 2010 • Do not copy without permission

Bird name: Resplendent Quetzal
Latin: Pharomachrus mocinno
Other: Quetzal or Quetzal mesoamericano (Es)
Family: Trogonidae • Trogons and Quetzals
Range: S Mexico to W Panama, montane cloud forest
The Resplendent Quetzal is a spectacular bird with superb iridescent colours and, in the male, long tail feathers. I saw these birds in May in Chiriqui, Western Panama, in the hills above Los Quetzales Lodge. Quetzales are fruit eaters, so can sometimes be found in groups feeding in certain fruiting trees.
The male has a superb red belly, white tail, long green tail feathers and upper parts, with yellow bill and green crest. The female is duller and lacks the long tail feathers and crest.
Classified Near-Threatened on the IUCN Red List, Respendent Quetzals are not always that easy to find in Panama - they are most common in the western Chiriqui highlands. They nest in tree holes.
The males are very beautiful in flight, their tails undulating through the air like snakes. The Resplendent Quetzal is the largest bird in the trogon family, the national bird of Mexico, and a sacred bird in Mayan culture.
More photos...