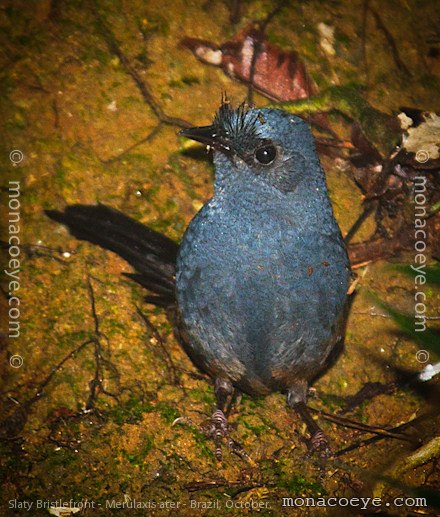 Copyright: monacoeye • Regua, Brazil, September 2011 • Do not copy without permission.

Bird name: Slaty Bristlefront
Latin:
Merulaxis ater
Other: Entufado (Br)

Family: Rhinocryptidae • Tapaculos
Range: Southeast Brazil Atlantic Forest
Similar:
Members of the Tapaculo family are usually easy to hear and difficult to see. So I was very pleased to get a photo of this Slaty Bristlefront at Regua, in north Rio de Janeiro state in September.
We climbed up a steep bank into the dark forest, and then waited patiently as the male Slaty Bristlefront made his way over to our playback. In addition to the lack of light there was a dense morning mist to contend with.
But although deceptively fleet-footed, he was not very shy, and walked up to about four metres away, calling as he went, as we watched in wonder. He also raised his neck feathers at one point (photo below).
The male, pictured, has a bluish head, neck and chest and brown wings, tail and rear. And tall bristles between the eyes.
A great bird, and the first of the
Rhinocryptidae
Tapaculo family that I've been able to photograph.
The Slaty Bristlefront is endemic to a fairly narrow strip of Atlantic rainforest in the east of Brazil. It is classed as Near Threatened in IUCN 3.1 due to habitat loss.
Below, a Slaty Bristlefront, at Regua in Guapi Assu.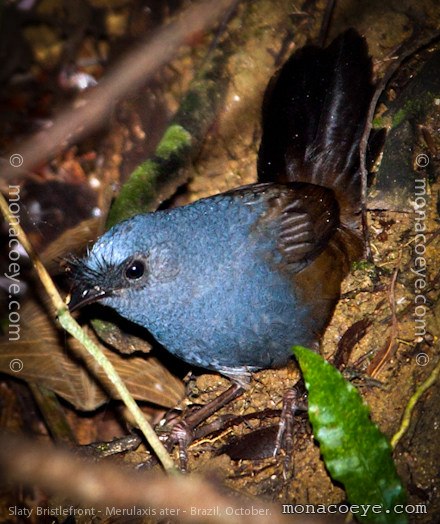 More photos...