Chestnut Capped Brush Finch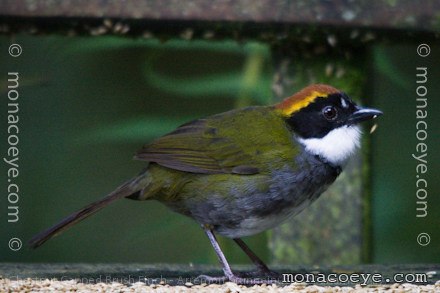 Copyright: monacoeye • All rights reserved • Panama, Chiriqui, May 2010

Bird name: Chestnut Capped Brush Finch
Latin:
Arremon brunneinucha
Other: was Buarremon • Rascadorcito gorricastaño (Es)

Family:
Emberizidae
•
Brush Finches
Range: Mexico, via Panama, Colombia, to Ecuador, Peru
Similar:
A horde of Chestnut-capped Brush Finches immediately appeared when the guide put out some seed for them in the forests above Los Quetzales. I had seen one before briefly with juvenile (photo further below) in El Valle, but the prospect of a good meal was all these birds needed to overcome their otherwise shy nature.
Adult Chestnut-capped Brush Finches are great-looking birds with a chestnut crown bordered by a thin yellow stripe, black face with white spots, white throat bordered by black line below, grey chest, white belly, greenish back and grey tail.
Below, Chestnut-Capped Brush Finch, Panama, Chiriqui, May 2010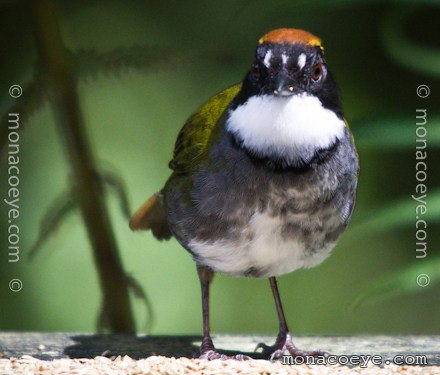 Below, Chestnut-Capped Brush Finch eating seed at Los Quetzales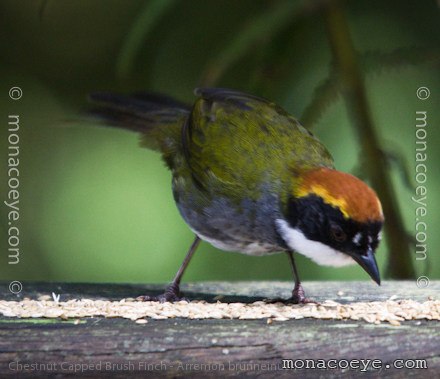 Below, probably juvenile Chestnut-Capped Brush Finch, Panama, May 2010