Gray Hooded Attila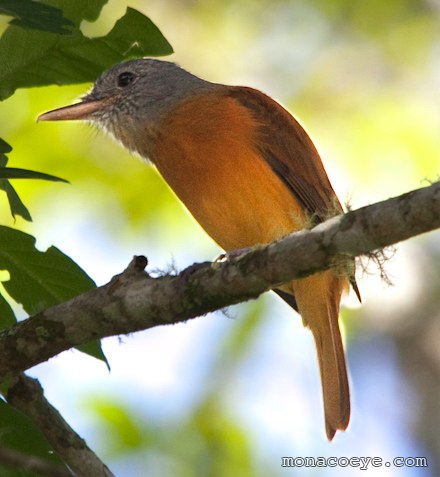 Photo copyright: monacoeye • Do not copy • Images: Itatiaia, RJ • November 2009

Bird name: Gray Hooded Attila
Latin:
Attila rufus
Other: Grey-hooded Attila • Capitão-de-saíra (Br)
Family: Tyrannidae • Attilas
The Gray-hooded Attila is a great-looking medium-sized bird with wonderful orange downy plumage. He is distinguished from the other attilas by a grey head, light greyish throat, rufous body and long pinkish bill.
The Grey-hooded Attila is also the only bird I have ever managed to successfully mimic and call out. It has a very distinctive song of about four notes of ascending scale and loudness with a final one which trails off and heads back down the other way. You really can't miss it, and you only need very basic whistling skills and musical ability to be able to copy it. This certainly did the trick in Itatiaia - this one popped into view and stayed there and we had a whistling match that lasted a few minutes!
The Gray-hooded Attila is endemic to the Serra do Mar Atlantic Forest region in eastern Brazil.