Grey Hawk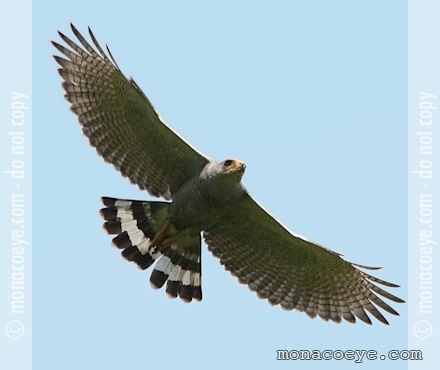 Photo copyright: monacoeye • Do not copy • Valle de Anton, Panama • 3 May 2010

Bird name: Grey Hawk
Latin:
Buteo nitidus
Other: Gray Hawk, Grey-lined Hawk, (White-rumped Hawk) •
Buteo plagiatus,
Asturina nitida
• Gavião-pedrês(Br) • Gavilán saraviado (Es)
Family:
Accipitridae
•
Hawks
, Birds of Prey
Range: Texas to Argentina.
The Gray Hawk in Panama is a pale, finely barred small hawk, with yellow at base of bill and two white bands on tail, one thick, one thin (a third sometimes visible near base) and narrow white band at tip. Pale grey also from above.
We had good views of this individual in the town of El Valle, in central Panama, and another was seen earlier in Summit Gardens perched at the top of a tall tree.