Red Rumped Cacique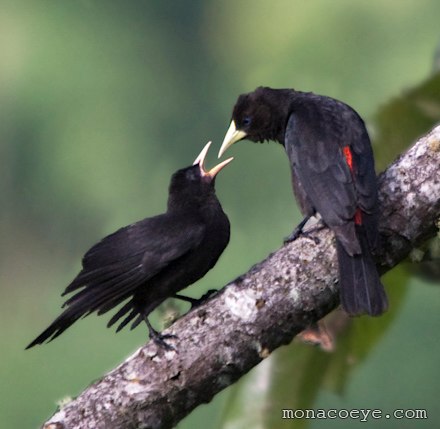 Copyright: monacoeye • Itatiaia • November 2009 • All rights reserved

Bird name: Red Rumped Cacique
Latin:
Cacicus haemorrhous
Other: Guaxe (Br) • Arrendajo de lomo rojo (Es)

Family:
Icteridae
•
Caciques
Range: Colombia to E Brazil & N Argentina

Similar:
Scarlet-rumped Cacique
,
Subtropical Cacique
The Red-rumped Cacique is the most common form of Cacique in eastern Brazil. It is a large bird, quickly identified by its yellow bill, startling bright blue iris and red flash of colour on its rump, especially visible in flight. The rest of the bird is black. Sometimes the blue irises show as black, perhaps in juveniles or bright light, as can be seen in the photo of the juvenile begging for food.
Red-rumped Caciques nest in colonies of pendulous nests, which they add to year after year, so that some older ones are empty. This can work to confuse some predators such as snakes. They will also weave their nests with green garden twine and several nests were seen incorporating this man made material. In Itatiaia I often saw Red-rumped Caciques eating fruit, including that of cecropia. A good sized colony of Red-rumped Caciques by the lake at Regua too.
There are two separate populations of Red-rumped Cacique, one in southeast South America, including the southeast of Brazil, and one in northwest South America.
Below, beautiful blue eye of a Red-rumped Cacique, Itatiaia, November.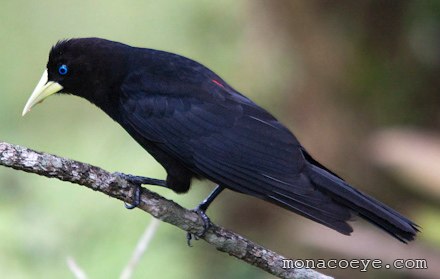 Below, Red-rumped Cacique nests, Itatiaia, November.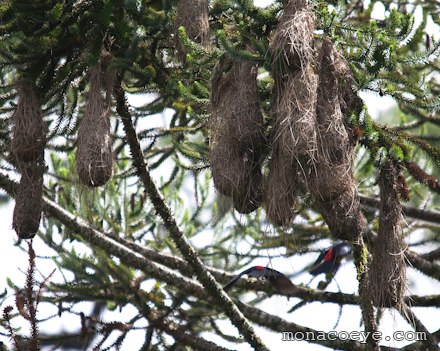 Below, a Red-rumped Cacique flies across the forest, Itatiaia, November.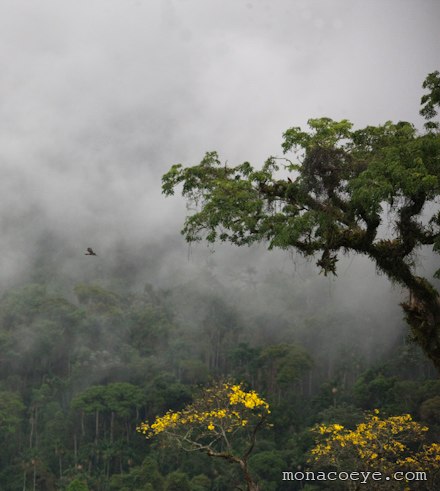 Below, Red-rumped Cacique begging for food, Itatiaia, November.