03 April 2013 15:20
© monacoeye.com, all rights reserved

Bird name: Short Toed Snake Eagle
Latin:
Circaetus gallicus
Other: Short Toed Eagle (Collins) • Circaète Jean le Blanc • Schlangenadler • Alangenarend • Biancone • Aguila Culebrera

Family:
Accipitridae
• Birds of Prey,
Snake Eagles
Range: South and East Europe, Middle East, India etc, Africa

Similar: Beaudouin's Snake Eagle
The Short Toed Snake Eagle preys mainly on snakes, but also small reptiles like lizards. It is predominantly light-coloured from below, with a dark, almost owl-like, head. They can be very pale, even on the head, with few, if any, of the characteristic brown dotted lines below. They are easy to recognise in France as there are no other raptors that are so light underneath
The Short Toed-Eagle is one of the more visible large raptors in the coastal mountains of the Alpes Maritimes in France, especially in May and September. If you go up to a high point near here, it is not uncommon for a Short-toed Eagle to hover past you on the thermals.
They are found mostly in southern and eastern Europe, into the Middle East and some parts of Asia, and migrate to Africa in the northern winter.
Also seen on at least one occasion, probably several times, on MacCarthy Island, Gambia, but no decent photos.
Below, Short-toed Eagle in flight, France, August.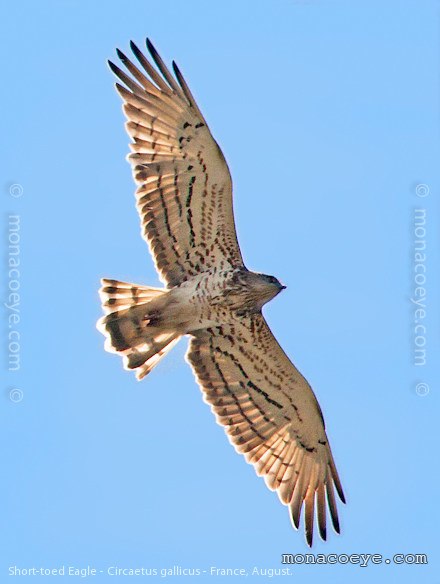 Short-toed Eagle from above !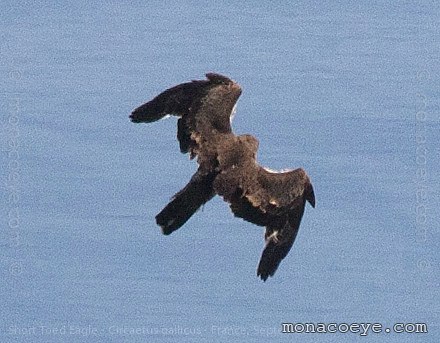 More photos...