17 February 2009 22:00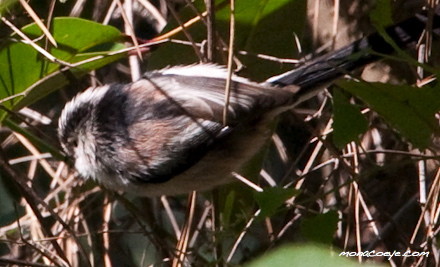 Bird name: Long Tailed Tit
Latin:
Aegithalos caudatus
Other: Mésange à Longue Queue
Family: Aegithalidae
Tag: Tits
Photo: monacoeye • Ventimiglia • Feb 2009
The Long Tailed Tit is a small fluffy bird, distinguished by its white markings and long tail. Seen here in woodland - it was eating the insects on the underside of the leaves.
More photos...
20 February 2008 23:12
183 Aegithalidae - Bushtits - IOC 2.5 - 2010
Not closely related to true tits (Paridae)
Aegithalos caudatus
-
Long-tailed Tit
- Widespread Eurasia - Back to Long-tailed Tit even though not parid
Aegithalos glaucogularis
- Silver-throated Bushtit - C, NE, EC China - Split from
A. caudatusAegithalos leucogenys
- White-cheeked Bushtit - SC Eurasia
Aegithalos concinnus
- Black-throated Bushtit - Himalayas to S Vietnam
Aegithalos niveogularis
- White-throated Bushtit - NW Himalayas
Aegithalos iouschistos
- Rufous-fronted Bushtit - C, E Himalayas
Aegithalos bonvaloti
- Black-browed Bushtit - NE Burma, SW China
Aegithalos sharpei
- Burmese Bushtit - SW Burma - Split from
A. bonvalotiAegithalos fuliginosus
- Sooty Bushtit - NC China
Leptopoecile sophiae
- White-browed Tit-warbler - C, SC Eurasia
Leptopoecile elegans
- Crested Tit-warbler - Himalayas, C China
Psaltria exilis
- Pygmy Bushtit - Java
Psaltriparus minimus
- American Bushtit - SW Canada to Guatemala