21 April 2013 12:02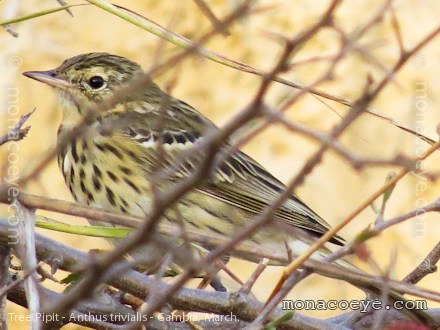 © GW - monacoeye • All rights reserved • Gambia, March 2013
Bird name: Tree Pipit
Latin:
Anthus trivialis
Other: Pipit des Arbres (Fr)

Family: Motacillidae • Pipits
Range: Europe, temperate Asia, migrating to India, Africa, incl Gambia

Similar: Meadow Pipit
Above a migrant Tree Pipit seen in Kartong, Gambia.
There's an art to differentiating Tree Pipits from Meadow Pipits - one that I do not claim to have mastered.
But the principal differences are that the Tree Pipit has a
larger supercilium
, (a thick white mark above the eye), with a
whitish dot around the ear
. The Meadow Pipit has a more strongly marked back - the Tree Pipit's is dull in comparison. The Tree Pipit has
fine marks on the flanks
. They both have
pinkish legs
, unlike the Water Pipit which has dark legs.