05 January 2012 23:48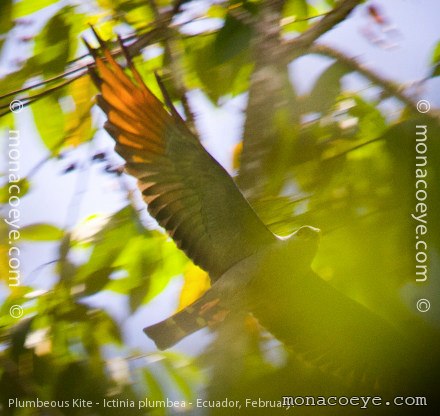 Copyright: monacoeye • Do not copy • Ecuador • March

Bird name: Plumbeous Kite
Latin:
Ictinia plumbea
Other: Sovi, gavião-sauveiro (Br) • Milano plomizo (Es)

Family:
Accipitridae
•
Kites
, Birds of Prey
Range: Latin America: Mexico to Argentina, incl Ecuador
Similar:
A Plumbeous Kite flying through the trees in Ecuador, March. Note rufous wing tips and banded tail. Also seen at Floresta Amazonica in Alta Floresta, Brazil.
More photos...
16 November 2011 16:43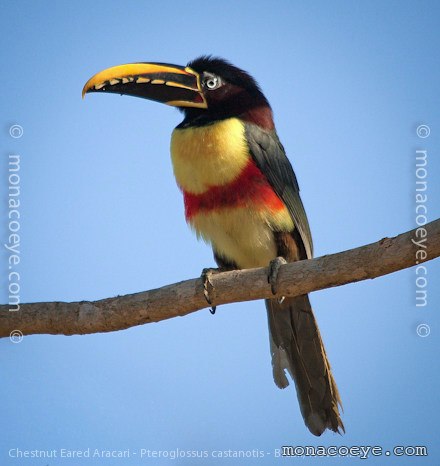 Copyright: monacoeye • Do not copy without permission • Pantanal, Brazil • Aug 2011

Bird name: Chestnut Eared Aracari
Latin:
Pteroglossus castano

Other: Araçari-de-pescoço-vermelho (Br) • Tucanillo (Es)

Family:
Ramphastidae
•
Toucans
,
Aracaris
Range: W Amazonia to SE Brazil
Similar: Many-banded Aracari
The Chestnut-eared Aracari was the most frequently seen of the toucan family, on my recent trip to Mato Grosso. In the Pantanal I saw them at Curicaca Lodge and Pouso Alegre, then again in Chapada das Guimaraes and Alta Floresta. In the Pantanal it seemed to be the only Aracari in its range.
The Chestnut-eared Aracari head colour ranges from black to chestnut, though usually at least the side of the head is chestnut coloured. The white iris is diagnostic. In Brazil, only the Many-banded Aracari also has light irises, but it only lives in the far north-west, near Ecuador, it lacks the chestnut head colouring and black stripe on upper mandible, and has additional black markings to chest.
The upper bill of the Chestnut-eared Aracari is serrated - the dark parts look like they wear away leaving the white parts as teeth.
Below, close-up of Chestnut-eared Aracari, Pantanal, Brazil • Aug 2011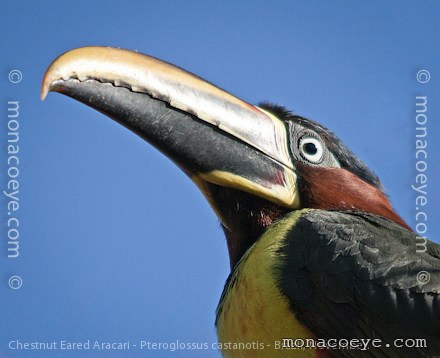 More photos...