07 April 2013 10:52
© GW - monacoeye.com, all rights reserved • Cattle Egret, Camargue, March.

Bird name: Western Cattle Egret
Latin:
Bubulcus ibis
Other: Héron Garde-Boeuf (Fr) • Garcilla bueyera (Es) • Garça-vaqueira (Pt) • Airone guardabuoi (It)

Family:
Ardeidae
•
Herons
, Egrets
Range: North America, South America, Africa, Southern Europe to Central Asia

Similar:
The IOC (1.6) split the Cattle Egret into Western and Eastern forms, the latter being found in Australasia.
The Western Cattle Egret has a short yellowy orange bill, hairy under bill, yellow iris, orange patches in breeding plumage. Smallest of the white egrets. Often follows cattle and large mammals. Abundant in some areas. Hundreds at Kotu, Gambia.
Cattle Egrets roost, Regua, Brazil, September.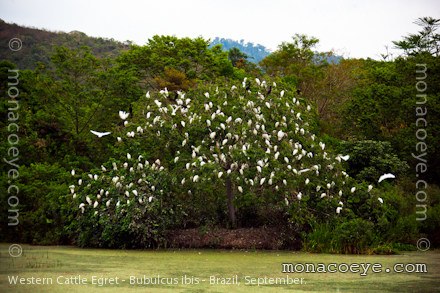 Cattle Egret, Gambia, February 2013.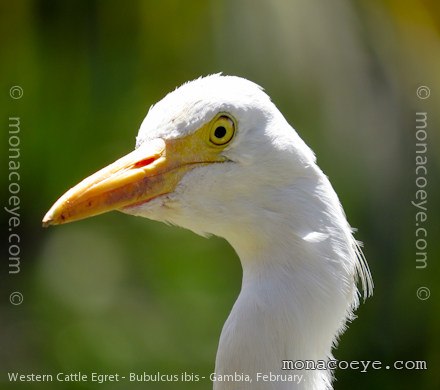 More photos...