17 December 2009 00:04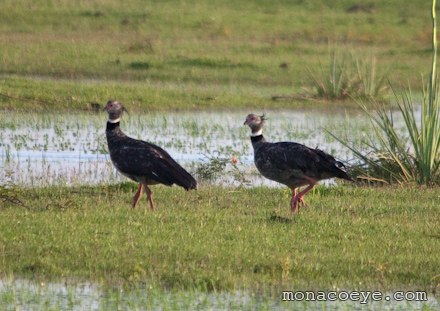 Photo copyright: monacoeye • Do not copy • Images: Mostardas, Brazil • November 2009

Bird name: Southern Screamer
Latin:
Chauna torquata
Other: Anhuma (Br) • Tachã • Chajá (Es)
Family: Anhimidae • Screamers
Southern Screamers were visible out in waterlogged fields, usually in twos or fours - they pair for life. Unmistakeable by their large size and rather strange appearance - with their short bill, black and white collar, pinkish face and legs. They also make very loud screeching sounds which is why, I'm guessing, they're called Screamers.
The Southern Screamer lives in the southern and western states of Brazil and neighbouring countries. There are two other Screamers in this small genetic family, both of which also live in South America. They are now believed to be distantly related to geese - not turkeys.
More photos...
19 September 2008 19:12
012 Anhimidae - Screamers - IOC 2.5 - 2010
Anhima cornuta
- Horned Screamer - N, C South America
Chauna chavaria
- Northern Screamer - Colombia, Venezuela
Chauna torquata
-
Southern Screamer
- C, S South America