06 November 2010 15:19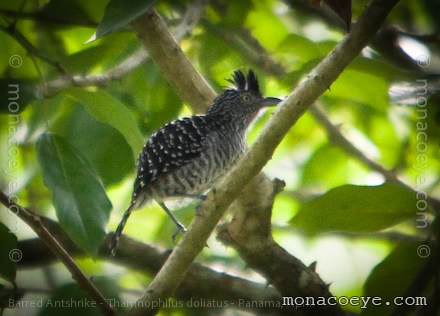 Copyright: monacoeye • Ammo Ponds, Panama, May 2010 • Do not copy without permission

Bird name: Barred Antshrike
Latin:
Thamnophilus doliatus
Other:
Family: Thamnophilidae • Antbirds
Range: Panama
The Barred Antshrike has a very distinctive, quizzical look, barred head and body, dark above, light below, with a large crest, pale yellow irises, and slight overbite.
We only saw males, which are black and white. Females are rufous above, buffy below, with rufous crest, and black and white face.
The Barred Antshrike is one of the most easily seen antbirds. We saw these individuals around Gamboa in the canal zone of Central Panama, at the Ammo Dump and near the Gamboa Rainforest Resort.
More photos...