20 March 2013 10:39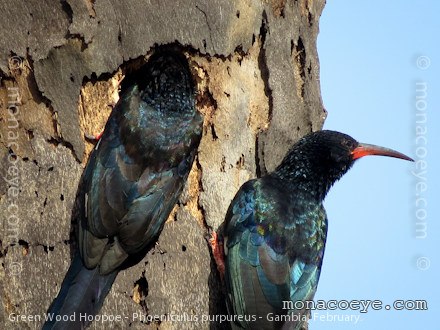 © GW - monacoeye • Gambia, Feb 2013 • All rights reserved


Bird name: Green Wood Hoopoe
Latin:
Phoeniculus purpureus
Other: Irrisor moqueur (Fr), zombeteiro-de-bico-vermelho (Pt), Baumhopf, Kakelaar (De), Grön skratthärfågel (De)

Family:
Phoeniculidae
-
Wood Hoopoes
,
Scimitarbills
Range: Africa: incl. Senegal, Gambia, to Ghana Nigeria, Chad, CAR, Sudan, Ethiopia, DR Congo, Uganda, kenya to South Africa, Angola, Zambia, Namibia, Botswana

Similar:
Black Scimitarbill
(Black Wood-hoopoe) with juvenile GWH.
The Green Wood-hoopoe was seen quite frequently on my recent trip to the Gambia. The guide said the nesting period should be over in late February, but it looked like parents were still feeding young in the tree-hole nest.
The bill of the adult Green Wood-hoopoe can be entirely red - perhaps only in the breeding season though because all the individuals I saw only had partly red or even black bills. Red feet also differentiate it from the smaller Black Scimitarbill (more commonly known as the Black Wood-hoopoe). Adults have a blue-purple-green sheen to their black feathers, only visible in some lights. White fleck visible on closed wing, and white patches in tail streamers, which are longer than the body. Parasitised by Greater and Lesser Honeyguide.

Below, a Green Wood-hoopoe begs for food at Farakunku Lodge, Feb 2013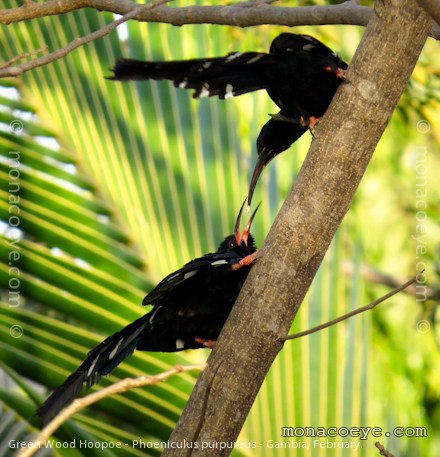 Below, a Green Wood-hoopoe shows tail feathers, Farakunku Lodge, Feb 2013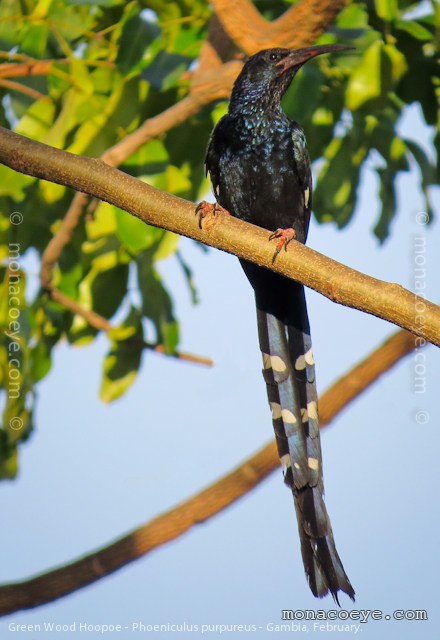 More photos...
04 September 2012 12:35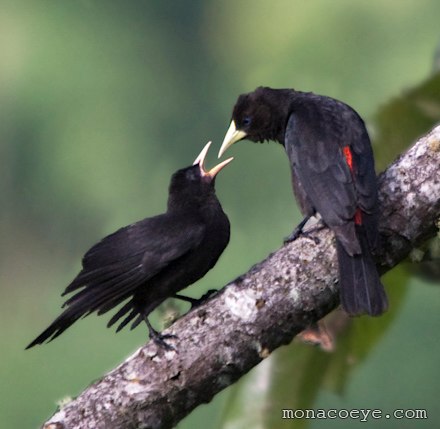 Copyright: monacoeye • Itatiaia • November 2009 • All rights reserved

Bird name: Red Rumped Cacique
Latin:
Cacicus haemorrhous
Other: Guaxe (Br) • Arrendajo de lomo rojo (Es)

Family:
Icteridae
•
Caciques
Range: Colombia to E Brazil & N Argentina

Similar:
Scarlet-rumped Cacique
,
Subtropical Cacique
The Red-rumped Cacique is the most common form of Cacique in eastern Brazil. It is a large bird, quickly identified by its yellow bill, startling bright blue iris and red flash of colour on its rump, especially visible in flight. The rest of the bird is black. Sometimes the blue irises show as black, perhaps in juveniles or bright light, as can be seen in the photo of the juvenile begging for food.
Red-rumped Caciques nest in colonies of pendulous nests, which they add to year after year, so that some older ones are empty. This can work to confuse some predators such as snakes. They will also weave their nests with green garden twine and several nests were seen incorporating this man made material. In Itatiaia I often saw Red-rumped Caciques eating fruit, including that of cecropia. A good sized colony of Red-rumped Caciques by the lake at Regua too.
There are two separate populations of Red-rumped Cacique, one in southeast South America, including the southeast of Brazil, and one in northwest South America.
Below, beautiful blue eye of a Red-rumped Cacique, Itatiaia, November.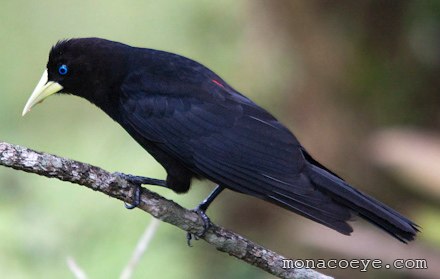 Below, Red-rumped Cacique nests, Itatiaia, November.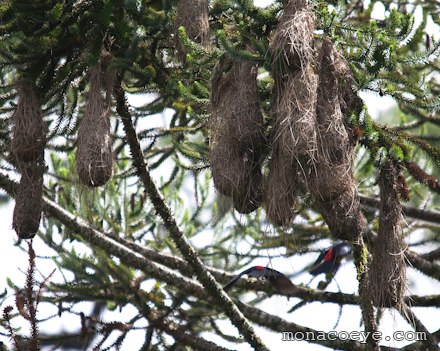 More photos...
20 January 2012 11:49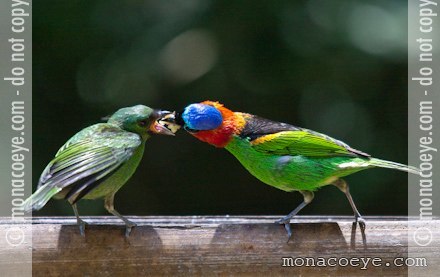 Copyright: monacoeye • All rights reserved • Ubatuba • November 2009

Bird name: Red Necked Tanager
Latin:
Tangara cyanocephala
Other: Saíra-militar (Br) • Tángara de cuello rojo (Es)

Family:
Thraupidae
•
Tanagers
Range: Brazil, Paraguay, Argentina
Similar:
The Red-necked Tanager is easy to identify in the adult form by its red neck. It also has a blue cap, green body, with some yellow on wing and black on back and on face around bill. The female, directly below, has less yellow on wing, less black on back and a duller, more orangey neck.
The juvenile Red-necked Tanager, seen above feeding from an adult male, and more examples below in "more photos", is predominantly green with tell-tale flecks of adult colour, such as red neck and blue cap, with black face.
The Red-necked Tanager is endemic to the south-east Atlantic Rainforest corridor in Brazil, with another pocket in the north-east of the country, with a paler blue head and blue fleck on tail.
Below, female Red-necked Tanager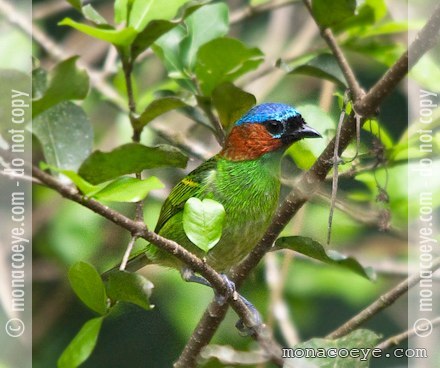 More photos...