22 March 2013 14:31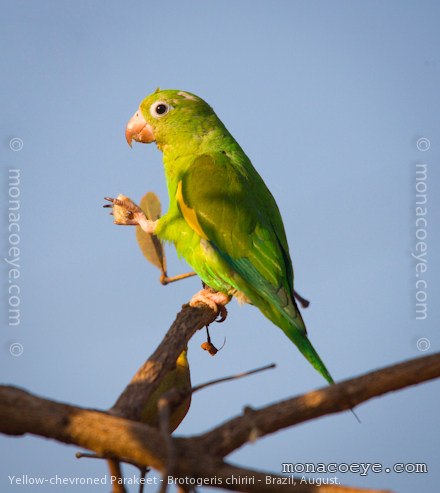 © monacoeye. All rights reserved • Chapada das Guimarães, Brazil, Aug 2011.

Bird name: Yellow Chevroned Parakeet
Latin:
Brotogeris chiriri
Other: Periquito-de-encontro-amarelo (Br) • Chirirí (Es), Toui à ailes jaunes (Fr), Kanarienflügelsittich (De)

Family:
Psittacidae
-
Parrots
,
Parakeets
Range: Brazil, Bolivia, Paraguay, Argentina

Similar:
Yellow-chevroned Parrots have yellow on bend in wing (chevron visible in flight), a little blue on wing tips, white eye-rings, dark irises, pale bill. Otherwise green, no red in wing.
These photos show one cheerful fellow tucking into a fig, early in the morning in Chapada das Guimaraes.
Also seen several times in the Pantanal, at Curicaca and Pouso Alegre (pic further below).
Apparently there are populations from released birds in several US cities, such as Miami and LA. Also in Rio de Janeiro.
More photos...
15 June 2010 13:20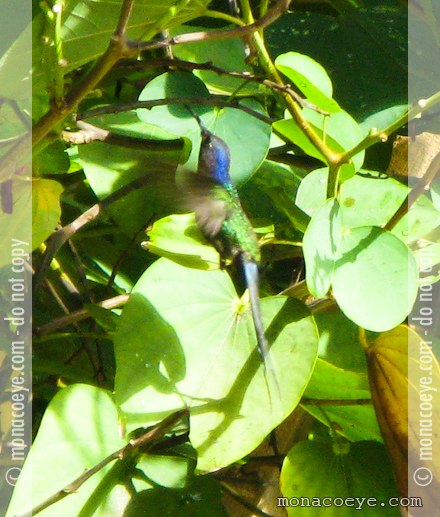 Copyright: monacoeye • Brasilia, Brazil • Do not copy without permission

Bird name: Swallow Tailed Hummingbird
Latin:
Eupetomena macroura
Other: Beija-flor-tesoura (Br)
Family:
Trochilidae
•
Hummingbirds
Range: Mainly Brazil, also Bolivia and Paraguay
Record shots of the Swallow-tailed Hummingbird - a fairly common hummingbird in Brazil, identifiable by its very long deeply-forked tail.
These photos were taken in Ubatuba and Brazilia.
More photos...