13 April 2013 10:00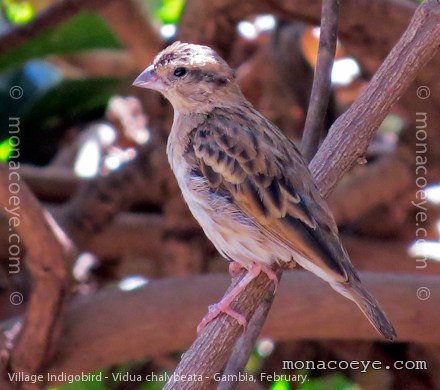 © GW - monacoeye • all rights reserved • Gambia, Feb 2013


Bird name: Village Indigobird
Latin:
Vidua chalybeata
Other:

Family:
Viduidae
•
Whydahs
,
Indigobirds
Range: W, C, SE Africa

Similar:
The guide pointed out this Village Indigobird in non-breeding plumage (end Feb). There are several small brown birds in the Gambia in non-breeding season, so ID should be treated with caution. In breeding season this indigobird has all black plumage with light bill and reddish legs. Juveniles are plain brown.
Village Indigobirds were frequently pointed out by the guides - especially up-river. They are a brood parasite of Red-billed Firefinch, but do not destroy host offspring, in whose company they were usually seen.