31 January 2012 12:40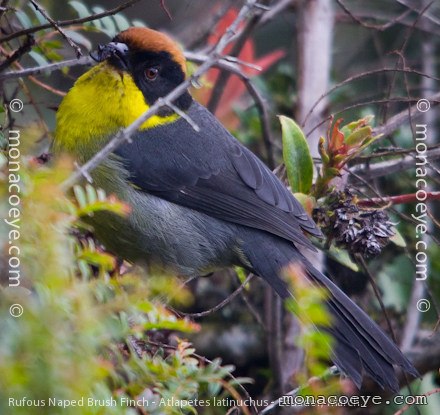 Copyright: monacoeye • All rights reserved • Yanacocha, Ecuador, March 2011

Bird name: Rufous Naped Brush Finch
Latin:
Atlapetes latinuchus
Other: Yellow-breasted Brush Finch (SACC) • Matorralero de pecho amarillo (Es)

Family:
Emberizidae
•
Brush Finches
Range: Venezuela, Colombia, Ecuador, Peru
Similar: Pale-naped Brush Finch, Choco/Tricolored Brush Finch
The Brush Finches are in a state of taxonomic flux, but for this entry I'm following IOC v2.11 Jan 2012 taxonomy, which corresponds to Ridgely & Greenfield, Birds of Ecuador, 2001, and does not include the Bolivian Brush Finch.
These photos were taken on the Yanacocha trail at 3500m, near Quito in northwestern Ecuador - a bit higher than the range suggested in Birds of Ecuador: 3200m.
I don't think there's much point spending too much time on the ID/name of these birds as they will doubtless change names again.
Typically though Rufous-nape Brush-finch should have a rufous nape, black mask, dark grey upperparts, yellow underparts going greyish near the legs.
Below, presumed Rufous-naped Brush Finch, Yanacocha, March.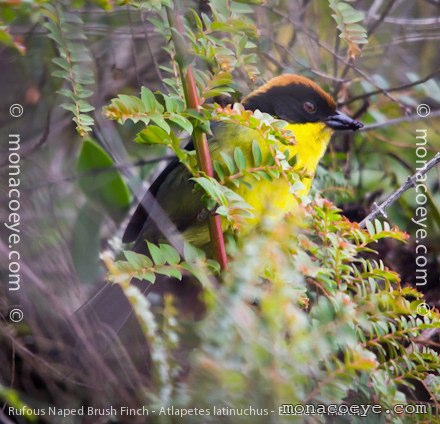 More photos...