28 January 2012 22:25
Copyright: monacoeye • All rights reserved • Panama, May 2010

Bird name: Red Legged Honeycreeper
Latin:
Cyanerpes cyaneus
Other: Mielero dorsioscuro, Mielero patirrojo (Es) • Saíra-beija-flor, saí-azul-de-pernas-vermelhas (Br)

Family:
Thraupidae
•
Tanagers
,
Honeycreepers
Range: Mexico to Brazil
Similar:
The Red-legged Honeycreeper was a typical fruit feeder bird in Canopy Lodge, El Valle, Panama, and also seen in forest outskirts.
The male (above) has bright red legs, electric blue cap, sometimes crested, black eye mask, and the rest intense blue. The female, directly below, is greenish with reddish legs.
Below, female Red-legged Honeycreeper, Panama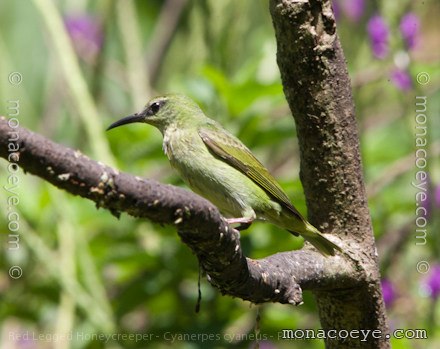 More photos...