27 November 2011 15:48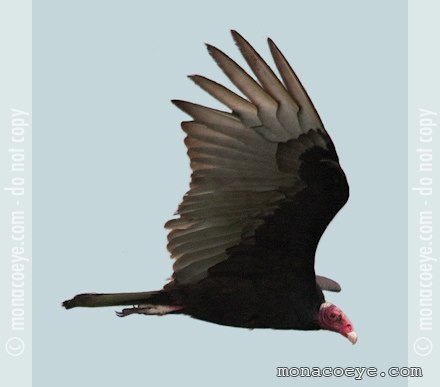 Copyright: monacoeye • Do not copy without permission • Canopy Tower, Panama April 2010

Bird name: Turkey Vulture
Latin:
Cathartes aura
Other: Urubu-de-cabeça-vermelha (Br) • Turkey Buzzard (US) • John Crow (Caribbean) • Aura común (Es)

Family:
Cathartidae
•
New World Vultures
Range: Americas: Canada to Argentina, incl Panama, Ecuador, Brazil etc.
Similar:
Black Vulture
,
Lesser Yellow Headed Vulture
,
Comparison
In Panama, there is only one other similar vulture with a thick white trailing band on the wing, the Lesser Yellow-headed Vulture, which has a yellowish, not pink, head.
Turkey Vultures can quickly be distinguished from other birds of prey at a distance by their V-shaped wings when gliding. The key fieldmark for differentiating them from other vultures is the well defined light underside of wings. Also they have pink heads.
Cathartes aura ruficollis,
the indigenous Panamanian vultures pictured above and further below have light marks on the back of the neck. Large numbers of migrating Turkey Vultures can also be seen in Panama at the right time of the year.
Turkey Vultures were less common than Black-headed Vultures by the coast and in Itatiaia NP. There I saw them on three occasions, singly or in pairs, very high up or low in the forest.
In the Pantanal they were seen regularly in August 2011, but not as frequently as the Lesser Yellow-headed Vulture.
In Panama, in April, the Turkey Vulture was more common than the American Black Vulture, and frequently seen in most non-urban locations. The observation deck of the Canopy Tower is a good place to get views of them soaring across the top of the forest.
Below: Turkey Vulture showing light underside of wing feathers, Pantanal, Brazil, August.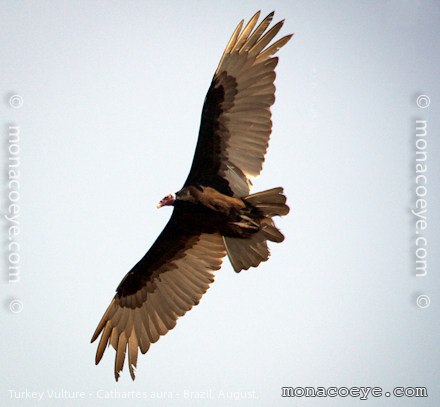 More photos...