31 August 2012 22:17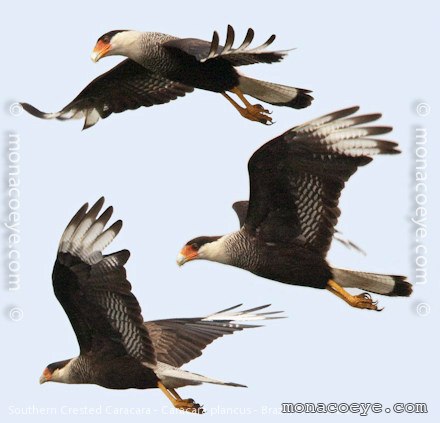 Copyright: monacoeye • Lagoa do Peixe • November 2009

Bird name: Southern Crested Caracara
Latin:
Caracara plancus
Other: Southern Caracara • Caracará, carancho (Br) • Carancho, caricari, caracara moñudo, carcaña, guarro, moñudo. traro (Es)

Family:
Falconidae
•
Falcons
,
Caracaras
Range: South America, south of the Amazon, excluding highlands.

Similar:
The Southern Crested Caracaras near Lagoa do Peixe flew above the marshes, which are densely populated with nesting birds, such as swallows, lapwing and other waders. The one above, which was flying around with a stolen egg, was being mobbed by Southern Lapwing and sheltered by a fence, where they were unable to dive-bomb him, as he tucked in to his breakfast.
Another pair were seen nesting on the top of the largest tree around.
They are quickly identifiable by their large orange-red and blue bill area, barred chest, some barring on wings, light patches at end of wings, but tips dark. White lightly-barred tail with dark band at end. Yellow legs. Further below a Southern Crested Caracara with yellowish bill, seen in the Pantanal - I think this must be a young adult.
Southern Crested Caracaras visited feeders at Curicaca Lodge in the Pantanal every day. They were often visible around the lodge, eating scraps or finding carrion.
Below, Southern Caracara has raided an egg, Mostardas, RS, Brazil, November.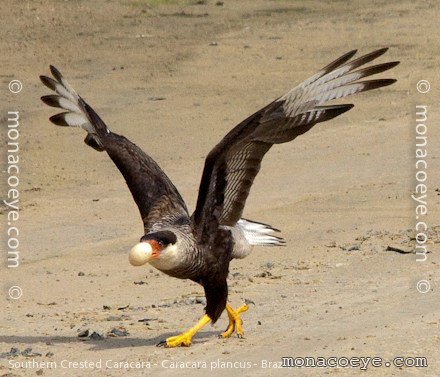 Below, Southern Crested Caracara, Pantanal, Brazil, Aug 2012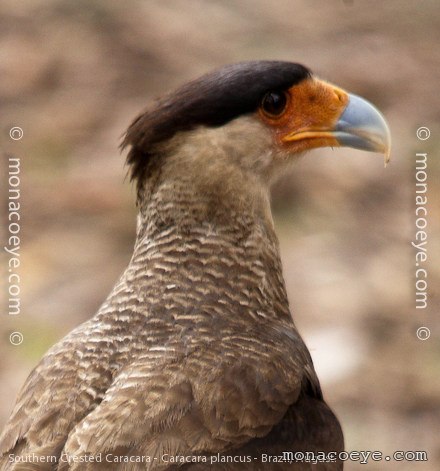 More photos...