04 October 2009 23:53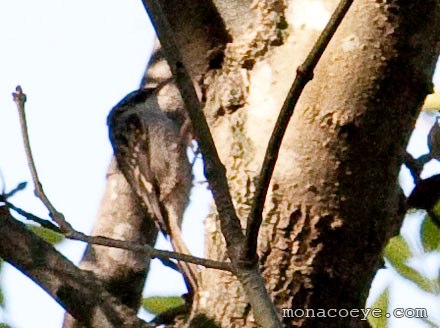 Photo: monacoeye • Cannes • September 2009


Bird name: Short Toed Treecreeper
Latin:
Certhia brachydactyla
Other: Grimpereau des jardins
Family: Certhiidae • Treecreepers
The Short Toed Treecreeper is a great bird. It scurries around along tree trunks, using that needle-sharp beak of its to weedle out small insects from under the bark.
I noticed this one the other day near Cannes and I saw another last January in Hyères, which leads me to suspect they like to spend their winters down on the Cote d'Azur.
It also has a very distinctive song which is crystal clear and cuts through most other sounds.
I've identified this one by the small white line contouring the outer part of the longest feather of the alula (a small set of feathers in the shoulder region) - one of the better distinguishing features.
More photos...
04 October 2009 23:50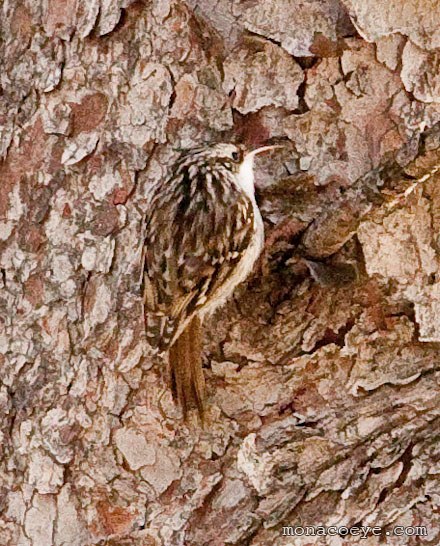 Photo: monacoeye • Hyères • January 2009

Bird name: Eurasian Treecreeper
Latin:
Certhia familiaris
Other: Common Treecreeper • Grimpereau des bois
Family: Certhiidae • Treecreepers
Actually, I have a fair idea that the bird pictured here is another Short-Toed Treecreper, but since nobody seems to have much of an idea how tell these two types of Treecreeper apart, I thought I'd get away with using it as an illustration for the Eurasian Treecreeper until I get a better one!
Treecreepers form a small group of nine very similar looking birds, ten if you include the more distantly related Spotted Creeper. Their closest relatives are Nuthatches and the Wallcreeper. There are two species in Europe, the Eurasian and the Short-Toed Treecreeper.
More photos...
28 January 2008 11:27
203 Certhiidae - Treecreepers
Certhia familiaris
-
Eurasian Treecreeper
- Widespread Eurasia
Certhia hodgsoni
- Hodgson's Treecreeper - SW China, N Pakistan, N Indian sub-continent, SE Tibet and extreme NE Burma. Asia
Certhia americana
- Brown Creeper - Widespread North America, Middle America
Certhia brachydactyla
-
Short-toed Treecreeper
- W, Eurasia, also NW Africa
Certhia himalayana
- Bar-tailed Treecreeper - Himalayas
Certhia nipalensis
- Rusty-flanked Treecreeper - Himalayas to NE Burma
Certhia discolor
- Brown-throated Treecreeper - Nepal, Tibet, NW India
Certhia manipurensis
- Hume's Treecreeper - Himalayas to SC Vietnam
Certhia tianquanensis
- Sichuan Treecreeper - SC China
Salpornis spilonotus
- Spotted Creeper - W, C, E, SE, Africa, Asia, also India