01 January 2011 13:58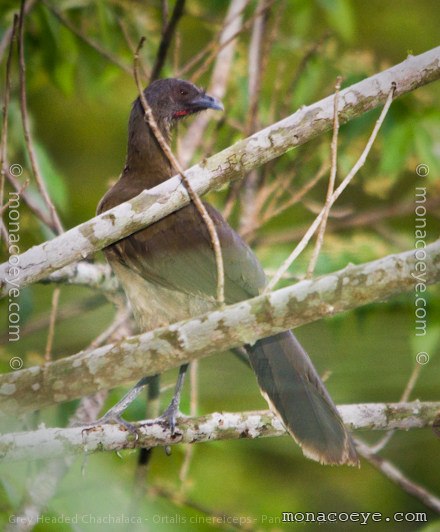 Copyright: monacoeye • Do not copy without permission • Panama, April 2010

Bird name: Grey Headed Chachalaca
Latin:
Ortalis cinereiceps
Other: Guacharaca de cabeza gris (Es)
Family: Cracidae • Chachalacas
Range: Honduras, Nicaragua, Costa Rica, Panama, N Colombia
Similar: Plain Chachalaca
I always seemed to be battling the light when I saw Grey-headed Chachalacas in Panama. They were not that uncommon - I saw a pair walking ten feet in front of my cabin door at the Canopy Lodge at dusk, and on further investigation noticed them several other days lurking in the dense branches surrounding the hotel. We also saw a large group of them crashing through the trees at Gamboa Rainforest Centre.
They look similar to Plain Chachalacas, which I understand in Panama replace Grey-headed on the north Caribbean slope. Grey-headed Chachalacas have more chestnut colouring on the wing.
More photos...
23 September 2008 19:11
008 Cracidae - Chachalacas, Curassows & Guans - IOC 2.5 - 2010
Ortalis vetula
- Plain Chachalaca - S Texas to Honduras
Ortalis cinereiceps
-
Grey-headed Chachalaca
- Honduras to N Colombia - Split from
O. garrulaOrtalis garrula
- Chestnut-winged Chachalaca - NW Colombia
Ortalis ruficauda
- Rufous-vented Chachalaca - Colombia, Venezuela
Ortalis erythroptera
- Rufous-headed Chachalaca - Ecuador, Peru
Ortalis wagleri
- Rufous-bellied Chachalaca - Mexico
Ortalis poliocephala
- West Mexican Chachalaca - Mexico
Ortalis canicollis
- Chaco Chachalaca - C South America
Ortalis leucogastra
- White-bellied Chachalaca - Mexico to Nicaragua
Ortalis guttata
- Speckled Chachalaca - Amazonia
Ortalis araucuan
- East Brazilian Chachalaca - E Brazil - Split from
O. guttataOrtalis squamata
- Scaled Chachalaca - SE Brazil - Split from
O. guttataOrtalis columbiana
- Colombian Chachalaca - Colombia - Split from
O. guttataOrtalis motmot
- Little Chachalaca - N Amazonia
Ortalis ruficeps
- Chestnut-headed Chachalaca - NC Brazil - Split from
O. motmotOrtalis superciliaris
- Buff-browed Chachalaca - NE Brazil
Penelope argyrotis
- Band-tailed Guan - Colombia, Venezuela
Penelope barbata
- Bearded Guan - Ecuador, Peru
Penelope ortoni
- Baudo Guan - Colombia, Ecuador
Penelope montagnii
- Andean Guan - Colombia to Bolivia
Penelope marail
- Marail Guan - N South America
Penelope superciliaris
- Rusty-margined Guan - C,e
Penelope dabbenei
- Red-faced Guan - SE Bolivia, NW Argentina
Penelope purpurascens
- Crested Guan - Mexico to NW South America
Penelope perspicax
- Cauca Guan - W Colombia
Penelope albipennis
- White-winged Guan - NW Peru
Penelope jacquacu
- Spix's Guan - Amazonia
Penelope obscura
-
Dusky-legged Guan
- SC, SE South America
Penelope pileata
- White-crested Guan - NC Brazil
Penelope ochrogaster
- Chestnut-bellied Guan - C Brazil
Penelope jacucaca
- White-browed Guan - E Brazil
Pipile pipile
- Trinidad Piping Guan - Trinidad - Was Common
Pipile cumanensis
- Blue-throated Piping Guan - W Guianas to SW Brazil -
Pipile cumanensis
ssp of
P. pipilePipile cujubi
- Red-throated Piping Guan - NC Brazil, Amazonia -
Pipile cujibi
ssp of
P. pipilePipile jacutinga
-
Black-fronted Piping Guan
- SE Brazil, SE Paraguay - Split from
P. pipileAburria aburri
- Wattled Guan - Venezuela to Peru
Chamaepetes unicolor
- Black Guan - Costa Rica, Panama
Chamaepetes goudotii
- Sickle-winged Guan - Colombia to Bolivia
Penelopina nigra
- Highland Guan - S Mexico to Nicaragua
Oreophasis derbianus
- Horned Guan - SE Mexico, Guatemala
Nothocrax urumutum
- Nocturnal Curassow - W Amazonia
Mitu tomentosum
- Crestless Curassow - N Amazonia
Mitu salvini
- Salvin's Curassow - W Amazonia
Mitu tuberosum
- Razor-billed Curassow - Amazonia
Mitu mitu
- Alagoas Curassow - E Brazil
Pauxi pauxi
- Helmeted Curassow - Venezuela, Colombia - New name
Pauxi unicornis
- Horned Curassow - Peru, Bolivia - New name
Crax rubra
- Great Curassow - Mexico to Peru
Crax alberti
- Blue-billed Curassow - Colombia - Blue-knobbed more accurate
Crax daubentoni
- Yellow-knobbed Curassow - Colombia, Venezuela
Crax alector
- Black Curassow - N Amazonia
Crax globulosa
- Wattled Curassow - W Amazonia
Crax fasciolata
- Bare-faced Curassow - C South America
Crax blumenbachii
- Red-billed Curassow - SE Brazil - Red-knobbed more accurate