02 November 2010 11:03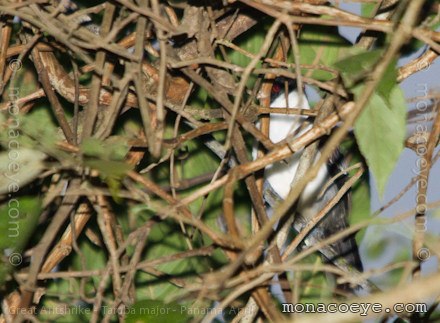 Copyright: monacoeye • Chagres, Panama, April 2010 • Do not copy without permission

Bird name: Great Antshrike
Latin:
Taraba major
Other: Choró-boi (Br)
Family: Thamnophilidae • Antbirds
Range: Panama, E Mexico to N Argentina
The photo above pretty well sums up the typical view of many antbirds in Panama!
We couldn't entice this male Great Antshrike out of his dense thicket, but he was easily recognisable by the bright red iris, white underparts and black upperparts.
The female is rufous not black.
We saw this individual in the canal zone of central Panama, near the Gamboa Rainforest Resort.
More photos...