04 September 2012 22:25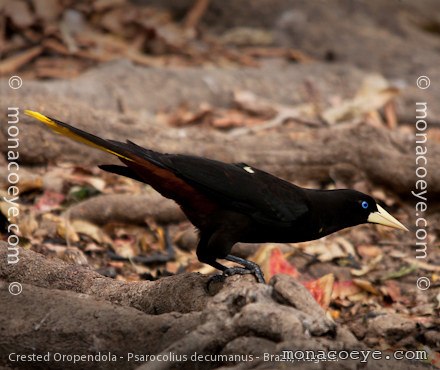 Copyright: monacoeye • Pantanal, August 2012 • All rights reserved

Bird name: Crested Oropendola
Latin:
Psarocolius decumanus
Other: Japu-preto (Br) • Oropéndola crestada, conoto yapú, conoto negro (Es)

Family:
Icteridae
•
Oropendolas
Range: Panama to northern Argentina, incl Brazil, Ecuador etc

Similar:
Chestnut-headed Oropendola
, Band-tailed Oropendola
The Crested Oropendola is the most common Oropendola, often seen at feeders in the Pantanal, Brazil; huge numbers seen returning to roost each evening in the Upper Napo region of eastern Ecuador (photo below); also seen as far west as Chiriqui, Panama (photo lowest) - it is currently expanding northwest into Honduras etc.
The Crested Oropendola has a pale yellow bill, bright blue irises, black body with long yellow undertail feathers, which extend past the 2 black central feathers, and chestnut vent and rump.
Charismatic birds which make wonderful noises and calls and a spectacular display (pic below).
Brazil
Below, Crested Oropendola at fruit feeder, Curicaca Lodge, Pantanal, Aug 2011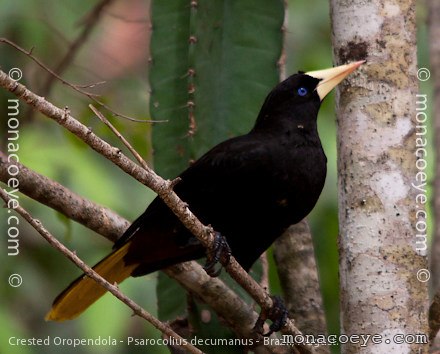 Below, presumed juvenile Crested Oropendola (dark iris), Curicaca Lodge, Pantanal, Aug 2011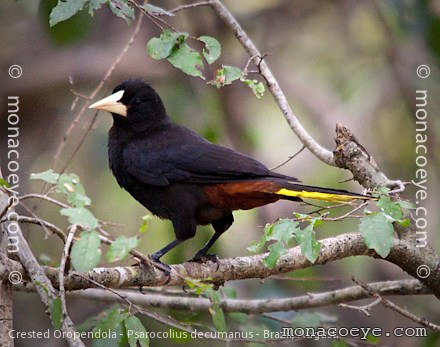 Below, Crested Oropendola displaying at Rio Clarinho tower, Pantanal, Aug 2011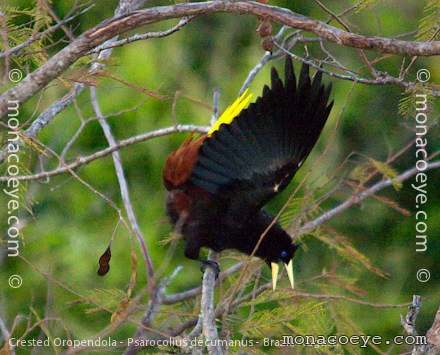 More photos...