01 February 2010 01:46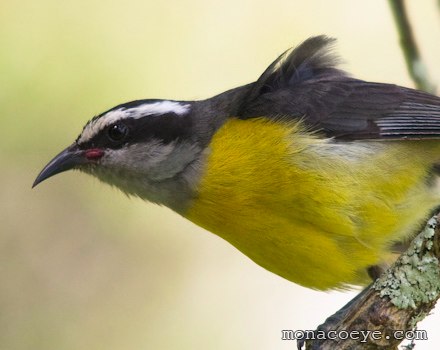 Photo copyright: monacoeye • Do not copy • Images: Itatiaia & Ubatuba November 2009

Bird name: Bananaquit
Latin:
Coereba flaveola
Other: Tangará (Br) • Reinita (Es)
Family: Coerebidae • Bananaquit
The Bananaquit is a small garden bird found in Brazil and most of tropical South and Central America. It feeds on nectar or even from hummingbird feeders. Also seen in Valle de Anton in Panama (not pictured).
It is recognisable by its long curved bill, yellow underside, white eyebrow strip and black eye stripe.
The nest below was in the fork of a small tree - perhaps a citrus? As you can see the entrance was in the side. The Bananaquit was bringing straw.
The taxonomy of the Bananaquit is uncertain but placed here in its own family.
More photos...
30 December 2007 23:38
225 Coerebidae - Bananaquit - IOC 2.5 - 2010
Coereba flaveola
-
Bananaquit
- Widespread Latin America, also West Indies