08 March 2010 16:29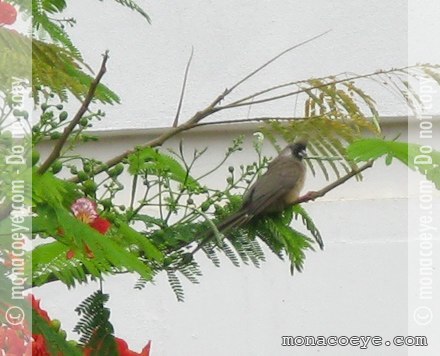 Photo copyright: A/monacoeye • Do not copy • Images: Angola • Nov 2009

Bird name: Red Backed Mousebird
Latin:
Colius castanotus
Other:
Family: Coliidae • Mousebirds
These Mousebirds, the first on the site, have been identified for me as Red-backed Mousebirds, which are endemic to Angola and the DRC. Although the Red-backed Mousebird looks similar to the Speckled Mousebird, I am told the Red-backed Mousebird is the one seen in Luanda, so that's what I'm going with here. This group were in the hotel grounds.
There are only six species of Mousebird in the world, all living in sub-Saharan Africa. They form their own order, the Coliiformes, which is close to Passeriformes.
More photos...
18 June 2008 19:28
087 Coliidae - Mousebirds - IOC 2.5 - 2010

Colius striatus - Speckled Mousebird - Widespread Africa
Colius leucocephalus - White-headed Mousebird - E Africa
Colius castanotus - Red-backed Mousebird - SW Africa
Colius colius - White-backed Mousebird - S Africa

Urocolius macrourus - Blue-naped Mousebird - E, C, W Africa
Urocolius indicus - Red-faced Mousebird - S Africa