07 October 2009 18:16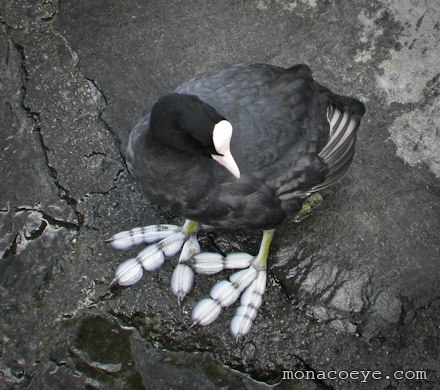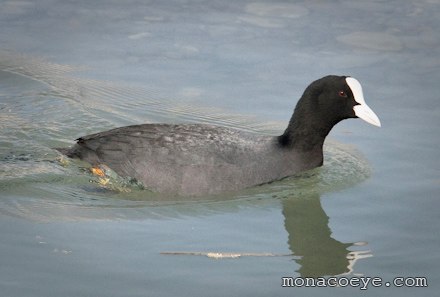 Photos copyright: monacoeye • Europe • Do not copy without permission

Bird name: Eurasian Coot
Latin:
Fulica atra
Other: Coot • Foulque Macroule • Focha Común • Blässhuhn • Folaga • Galeirão-Comum
Family:
Rallidae
-
Rails
,
Coots
The Coot is probably the bird you are most likely to see near a lake or slow waterway in Europe, after the Mallard.
Easy to identify from its bobbing head movement and white shield that extends from the bill, which on closer inspection can be slightly pinkish. Plumage generally appears black.
There are about 11 Coot species worldwide, mostly in South America. The Eurasian Coot is the only one you are likely to see in Europe, though the Red Knobbed Coot can be found in southwest Spain.
The Coots are parts of the Rail family, which includes the larger Moorhen, which has a red bill with yellow tip, and is often seen in the same riverside habitat.
Notice the long lobed toes, even on the Coot chick, seen in Geneva, in June. The photo of several hundred on a lake was taken in the Camargue in January.
More photos...