11 April 2013 18:35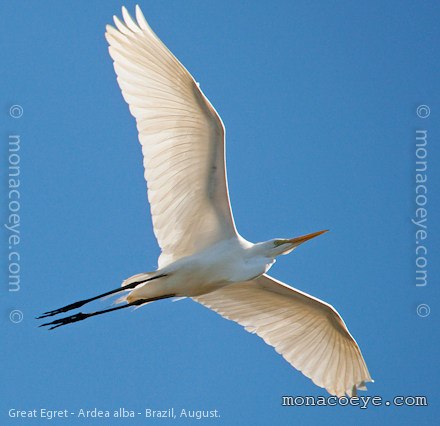 © monacoeye. All rights reserved. Pantanal, August

Bird name: Great Egret
Latin:
Ardea alba
Other: Grande Aigrette (Fr) • Kotuku (NZ) • Great White Egret • Common Egret • Garça-branca-grande (Br)

Family:
Ardeidae
•
Herons
,
Egrets
Range: Worldwide

Similar: Little Egret, Intermediate Egret, White Stork
The Great Egret is a prominent large heron with all-white plumage, large wingspan, yellow bill, dark feet. Neck retracted in flight. In breeding plumage (see below in Romania), bill can be black, lores green, tibia red.
Seen regularly by rivers, lakes etc. France, Brazil, Africa etc.
The subspecies
Ardea alba alba
(Europe) (see "more photos"),
Ardea alba egretta
(Americas),
Ardea alba melanorhynchos
(Africa) and
Ardea alba modesta
(Asia & Australasia) were split by the IOC and then relumped.
Great Egret standing on tree, Pantanal, August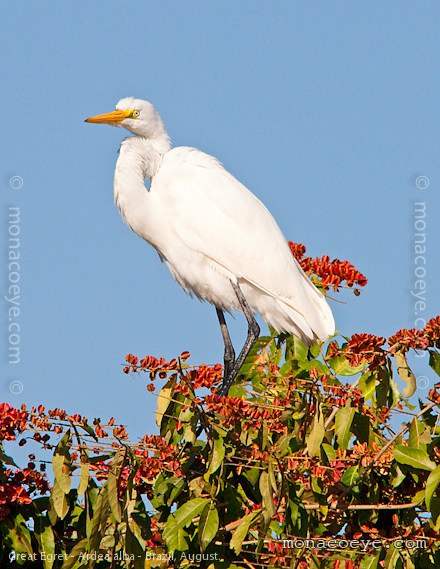 Great Egret in flight showing streamers, Mostardas, RS, Brazil, November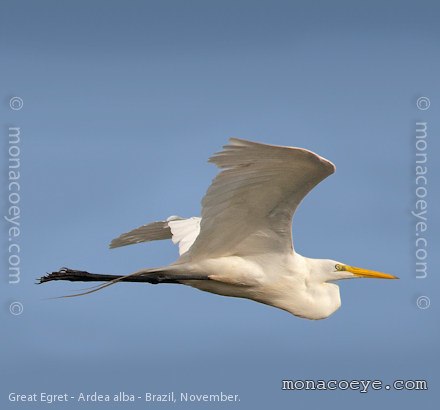 Great Egret in breeding plumage, green lores, black bill, red tibia. Danube Delta, May.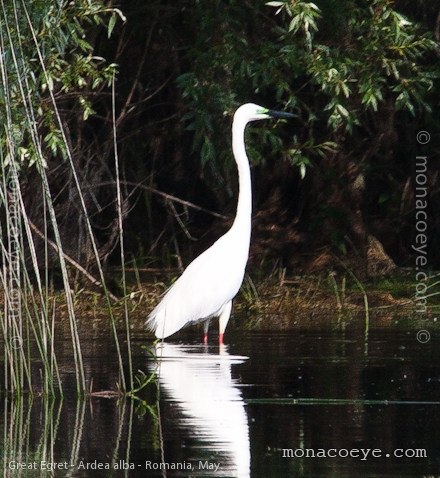 More photos...