05 October 2012 18:31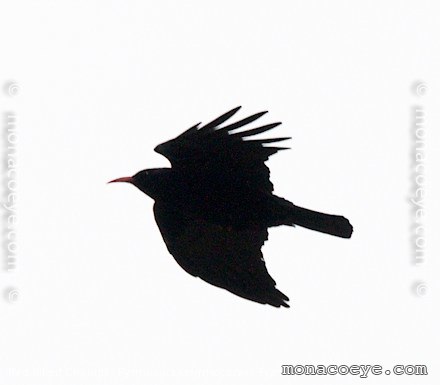 © monacoeye • Alpes Maritimes, France, October 2012 • All rights reserved


Bird name: Red Billed Chough
Latin:
Pyrrhocorax pyrrhocorax
Other: Chough (UK)• Crave à bec rouge (Fr) • Chova piquirroja (Es) • Gracchio corallino (It) • Alpenkrähe (De), Gralha-de-bico-vermelho (Pt)

Family:
Corvidae
•
Crows
,
Choughs
Range: Ireland, UK, Portugal, Spain, Fance, Italy, Balkans, Greece, Turkey, N Africa. Mid East to Himalayas, China

Similar: Alpine Chough
The Red-billed Chough is not common in central Europe but can be found in scattered populations.
A large group was seen in the winter in the Gorges du Verdon, 1200m alt, where they live on the vertical walls of the gorge. Also a few in the Mercantour, 2200m alt. October, alongside Alpine Chough.
The range of the Chough extends from Spain to the eastern Himalayas, with a few colonies in Africa.
Choughs are typically high mountain birds, but will breed on steep rock walls even on the coast.
They can be distinguished from the similar Alpine Chough by their long, thin, curved red (not short, yellow) bills, though juvenile Choughs have yellowish bills. Feet are red.
Below, Red-billed Chough in Mercantour, October.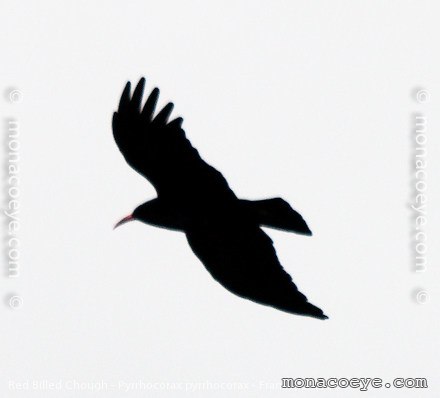 More photos...