04 November 2011 16:24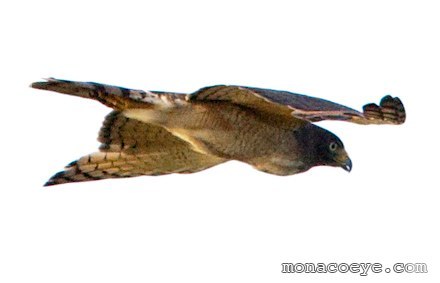 Copyright: monacoeye • Do not copy without permission • Lagoa do Peixe, Brazil • Nov 2009

Bird name: Roadside Hawk
Latin:
Buteo magnirostris
Other: Gavião-carijó (Br) • Gavilán pollero (Es), Aguilucho de ala rojiza, Taguato común

Family:
Accipitridae
•
Hawks
, Birds of Prey
Range: Latin America, Mexico to Argentina, incl Brazil
Similar:
The Roadside Hawk has a dark head with pale irises and usually pale barred chest and underwings. Topside of wings are dark, with a rufous wing patch on primaries. This rufous patch, usually just visible on perched birds, is diagnostic for Roadside Hawk.
The Roadside Hawk is typically the most frequently seen bird of prey when birding in Latin America, so it is a good bird to learn to identify.
Tail has thick brown and white horizontal stripes. Bill base is yellowish with dark tip and perhaps some light blue in the middle.
There are several subspecies and morphs, where dark brown is replaced by grey. Upper chest can be dark (Panama) or vertically striped (Brazil).
In the Pantanal in August I saw Roadside Hawks on most days - near roads, rivers and in forest. Near Mindo, Ecuador, in April, it was also the most common and visible bird of prey.
Below, Roadside Hawk mobbed in El Valle, Panama, May 2010. Dark throat and chest.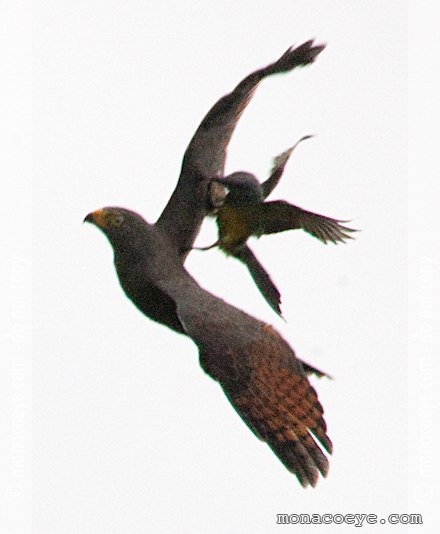 Below, a pair of Roadside Hawks in Mindo, Ecuador, April 2011. Yellow irises, orange ceres, grey throat and chest, rufous primaries just visible in perched birds. Thin white barring lines on underside.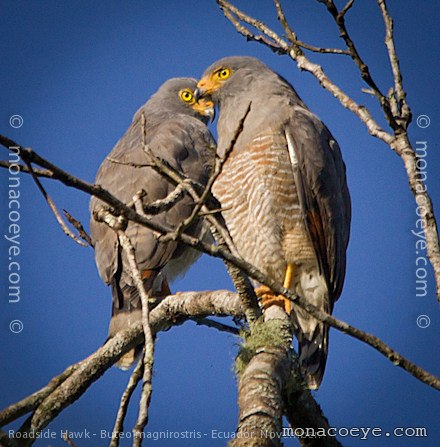 More photos...