03 October 2012 09:01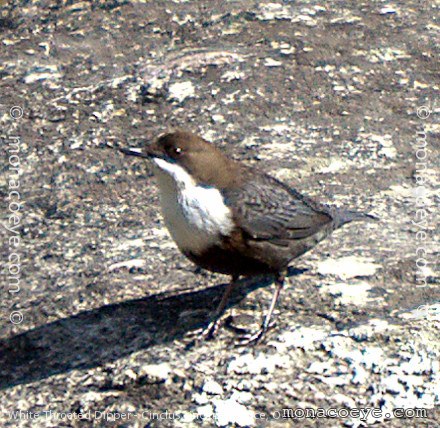 © monacoeye • Mercantour, August 2011 • All rights reserved.
Bird name: White Throated Dipper
Latin:
Cinclus cinclus
Other: European Dipper, Dipper (UK), Cincle plongeur (Fr), Wasseramsel (De), Mirlo acuático europeo (Es), Merlo acquaiolo (It), Strömstare (Sv), Melro-d'água (Pt)

Family:
Cinclidae
•
Dippers
Range: Parts of Europe and Asia, incl Alps, Scandinavia, Ireland, Scotland, Balkans

Similar:
Habitat: Montane, shallow, fast-moving streams.
We saw many White-throated Dippers along fast-moving streams, away from towns and busy paths, in the Mercantour.
Behaviour: They swim in small, shallow mountain rivers, dive and swim underwater, perch mid stream, hide in small crannies under rocks, fly in and out of small waterfalls or perch nearby, hide in the shade of overhanging riverbank plants, and usually seem to be heading either upstream or downstream, often in pairs. Charasmatic birds. Also seen around banks of stiller lakes that adjoin these streams - perhaps their nests?
Observation: They are not easy to see, because they are easily flushed, well-camouflaged and fast moving, but fairly abundant, in my experience, so a walk along a suitable stream, scanning for movement or birds perched midstream, often produced one or more, especially in October. Sometimes flushed when crossing bridges. We saw them in August and October between 1600 and 1900 m altitude.
Food: The floor of the clear stream where we often see them, in certain areas was covered in large insects in August - presumably dragonfly nymphs or similar. Seemed like a possible food source.
Below, a White-throated Dipper, beside a small waterfall in the Mercantour.
More photos...
29 October 2011 16:57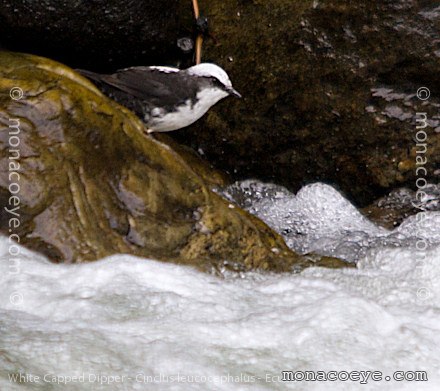 Copyright: monacoeye • Pantanal, August 2011 • Do not copy without permission,

Bird name: White Capped Dipper
Latin:
Cinclus leucocephalus
Other: Mirlo acuático de coronilla blanca (Es)

Family:
Cinclidae
•
Dippers
Range: Venezuela, Colombia, Ecuador, Peru, Bolivia
Similar:
Guango Lodge in Ecuador was a good place to see the White-Capped Dipper in April. We saw one diving in and out of the water, and making its way up the fast moving river that runs along the bottom end of the property, and another pair of White-Capped Dippers right underneath the waterfall at the upper section of the property.
The White-Capped Dipper is always found by water, in the Andean highlands, often in pairs. It has no problem walking on wet boulders.
More photos...
22 January 2008 23:12
209
Cinclidae
•
Dippers
- IOC 2.5 - 2010
Cinclus cinclus
-
White-throated Dipper
- Widespread Eurasia, also NW Africa
Cinclus pallasii
- Brown Dipper - C, E Eurasia
Cinclus mexicanus
- American Dipper - W Canada to Panama
Cinclus leucocephalus
-
White-capped Dipper
- Colombia to Bolivia
Cinclus schulzi
- Rufous-throated Dipper - NW Argentina, SE Bolivia