16 July 2011 11:44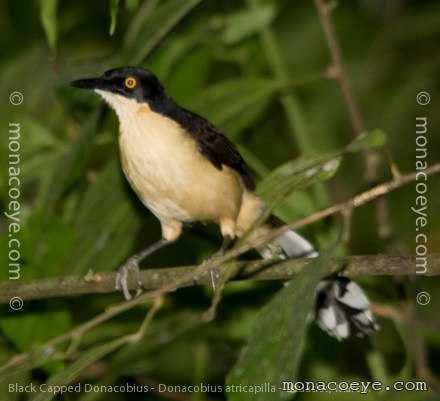 Copyright: monacoeye • Do not copy without permission • Napo, Ecuador, Mar 2011

Bird name: Black-capped Donacobius
Latin:
Donacobius atricapilla
Other: Donacobio (Es) • Japacanim (Br)

Family: Donacobiidae • Black-capped Donacobius
Range: Panama, Colombia, Venezuela, Guyanas, Ecuador, Peru, Brazil, Bolivia, Paraguay, N Argentina
Similar:
We saw our first Black-capped Donacobius clinging to reedtops in flooded pasture beside the road down to Tena from Quito. Then further east, in the upper Napo region, in a river-island marsh.
They are vocal, often duetting, 'kwik, kwik, kwik', and conspicuous, hopping up to see what you are doing then retreating. When duetting they display their orange throats.
The Donacobius is placed in a family of its own here, following the IOC classification, but opinions differ - originally it was thought to be a wren, and now perhaps a type of old-world warbler.
The Black-capped Donacobius is found throughout northeast South America, including the Amazon basin and Pantanal.
The Donacobius is cream below, brown-black above, black head and bill, bright orange-yellow iris, with relatively long black and white tail feathers. So easy to identify in Ecuador.


Below, a pair of duetting Black-capped Donacobius, nr Tena, Ecuador, March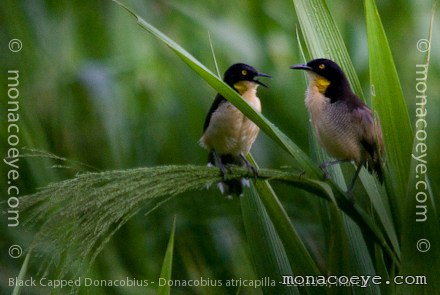 More photos...
16 February 2008 23:12
187 Donacobiidae - Black-capped Donacobius - IOC 2.5 - 2010
Donacobius related to Old World warblers, not wrens (Troglodytidae)
Donacobius atricapilla
-
Black-capped Donacobius
- Panama to NE Argentina