29 January 2012 09:26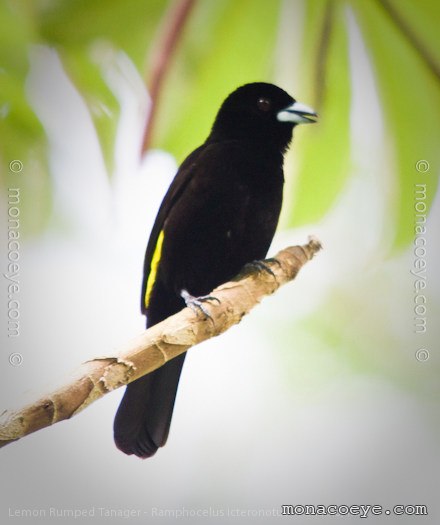 Copyright: monacoeye • All rights reserved • Panama, Gamboa, May 2010

Bird name: Lemon Rumped Tanager
Latin:
Ramphocelus icteronotus
Other: Flame-rumped Tanager • Tangara lomilimón (Es)

Family:
Thraupidae
•
Tanagers
Range: Panama, Colombia, Ecuador
Similar:
Lemon-rumped Tanagers hybridize with Flame-rumped Tanagers, and so are often lumped together. But for the purposes of this entry, if the rump is yellow, not red, the bird is called Lemon-rumped, even though the birds in Panama were often referred to as Flame-rumped Tanagers by the guides.
Females, in particular, were not uncommon in Gamboa and El Valle. Lemon-rumped Tanagers were also seen frequently in Ecuador, especially around Mindo - only in the west.
The Lemon-rumped Tanager male is black with a very bright lemon rump. The female is yellow below and brown above - a slightly washed out look with light throat, and pale wingbar visible. Both have light bluish-white bills with dark tip.
Below, female Lemon-rumped Tanager, Panama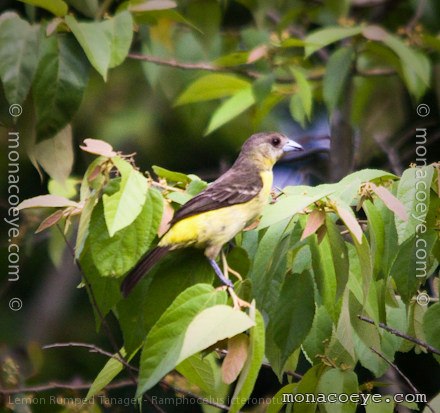 Below, male Lemon-rumped Tanager, Ecuador, 2011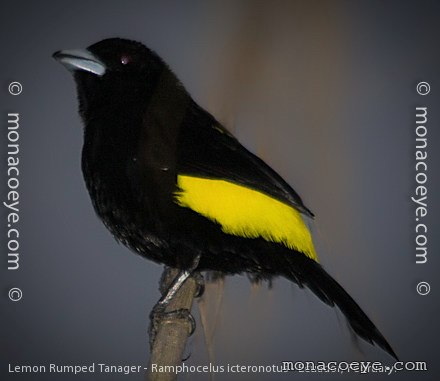 More photos...