22 March 2013 13:01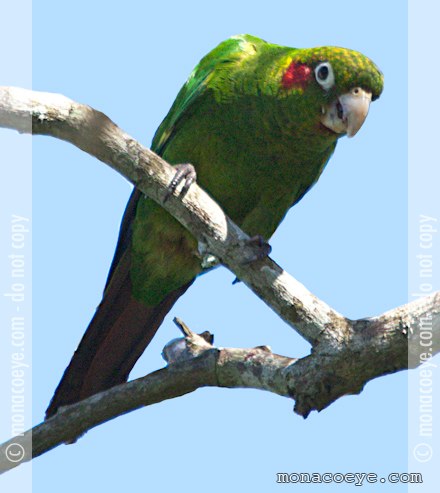 ©
monacoeye • All rights reserved • Chiriqui, Panama, 8 May 2010

Bird name: Sulphur Winged Parakeet
Latin:
Pyrrhura hoffmanni
Other: Hoffmann's Conure • Perico de Hoffman (Es)

Family:
Psittacidae
-
Parrots
,
Parakeets
Range: Costa Rica highlands and western Panama

Similar:
We observed a sizeable group of Sulphur-winged Parakeets feeding on this fruiting tree on Finca Hartmann in western Panama. The guide noted we were lucky to get such good views of a relatively timid bird.
The Sulphur-winged Parakeet is mostly green with a red cheek, white eye ring and some yellow around head and wings. It has a light coloured bill, and reddish under long tail.
More photos...