26 July 2011 09:08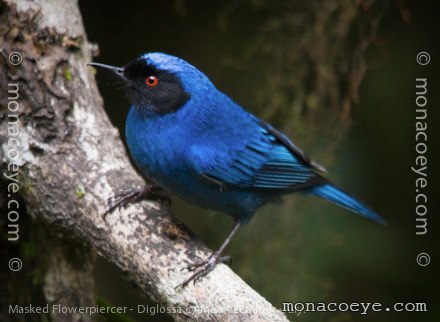 Copyright: monacoeye • Yanacocha, Ecuador • Feb 2011 • Do not copy without permission

Bird name: Masked Flowerpiercer
Latin:
Diglossa cyanea
Other: Pinchaflor enmascarado (Es)

Family:
Thraupidae
•
Tanagers
,
Flowerpiercers
Range: Venezuela, Colombia,
Ecuador
, Peru, Bolivia
Similar: Bluish Flowerpiercer, Indigo Flowerpiercer
Beautiful rich colours on these fast-moving Masked Flowerpiercers. Large black mask and red eye with blue body. Females duller. Seen in several locations, will visit nectar feeders. The best location, where there were large numbers feeding, was at the end of the Yanacocha trail - 3800 m.
If you don't get a good view, can be confused with Bluish Flowerpiercer.
More photos...