29 August 2012 12:52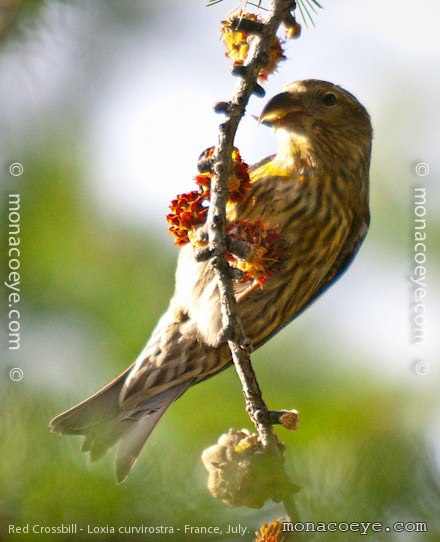 Copyright: monacoeye • Alpes Maritimes, July 2012

Bird name: Red Crossbill
Latin:
Loxia curvirostra
Other: Common Crossbill (UK) • Bec-croisé des sapins (Fr) • Fichtenkreuzschnabel (De) • piquituerto común (Es) • crociere (It) • Kruisbek (Nl) • Mindre korsnäbb (Sv) • cruza-bico-comum (Pt)

Family:
Fringillidae
• Finches, Crossbills
Range: Widespread Eurasia, esp Alps etc, Asia, North America, M America

Similar: Other crossbills
Another new local bird for me this year, the Red Crossbill or Common Crossbill. Large flocks seen in the Mercantour in July, in pines, usually around 1500m to the treeline at about 2000m. Always busy feeding on the small unopened pine cones, sometimes seen with Willow Warblers. Not excessively shy.
Unmistakeable in France because of its large powerful crossed mandibles. Adult males are reddish, females yellowish and juveniles greyer and more streaked.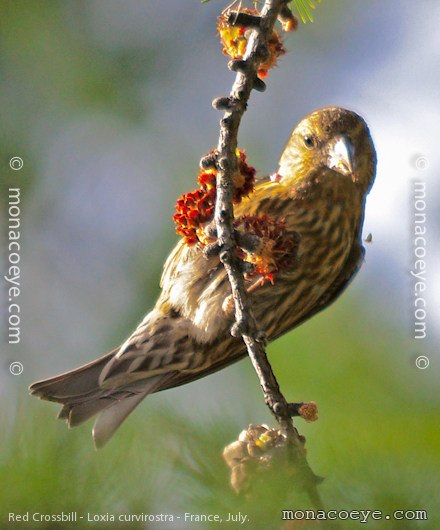 Above, a female Red Crossbill feeding on pine kernels in the Mercantour, July.
More photos...