04 April 2011 19:50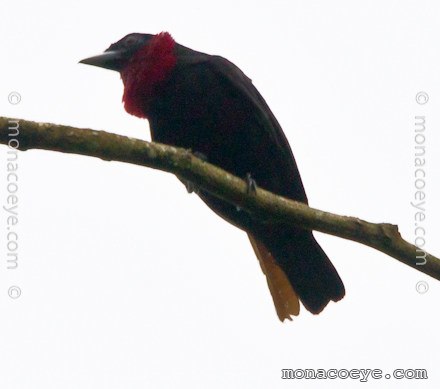 Copyright: monacoeye • Silanche, Ecuador, Feb 2011 • Do not copy without permission

Bird name: Purple Throated Fruitcrow
Latin:
Querula purpurata
Other: Querula gorgimorada (Es)

Family: Cotingidae • Cotingas, Manakins, Fruitcrows
Range: Southern Nicaragua to Amazonia. Inc. Panama,
Ecuador
.
Similar:
Above a male Purple-throated Fruitcrow, extending the purple ruff on its neck after calling, in the Rio Silanche Reserve in northwest Ecuador. Females are all black (see "more photos"), only males have the purple throat. Not in the crow family, but related to Cotingas.
More photos...
10 May 2008 19:08
118 Cotingidae - Cotingas - IOC 2.5 2010
Ampelion rubrocristatus
-
Red-crested Cotinga
- W Venezuela to Bolivia
Ampelion rufaxilla
- Chestnut-crested Cotinga - Colombia to Bolivia
Zaratornis stresemanni
- White-cheeked Cotinga - W Peru
Doliornis remseni
- Chestnut-bellied Cotinga - Colombia, Ecuador
Doliornis sclateri
- Bay-vented Cotinga - C Peru
Phytotoma raimondii
- Peruvian Plantcutter - NW Peru
Phytotoma rutila
- White-tipped Plantcutter - SC, SE South America
Phytotoma rara
- Rufous-tailed Plantcutter - Chile, W Argentina
Carpornis cucullata
- Hooded Berryeater - SE Brazil
Carpornis melanocephala
- Black-headed Berryeater - E Brazil
Pipreola riefferii
-
Green-and-black Fruiteater
- N Venezuela to N Peru
Pipreola intermedia
- Band-tailed Fruiteater - Peru to Bolivia
Pipreola arcuata
- Barred Fruiteater - W Venezuela to Bolivia
Pipreola aureopectus
- Golden-breasted Fruiteater - Colombia, Venezuela
Pipreola jucunda
-
Orange-breasted Fruiteater
- Colombia, Ecuador
Pipreola lubomirskii
- Black-chested Fruiteater - S Colombia to Peru
Pipreola pulchra
- Masked Fruiteater - Peru
Pipreola frontalis
- Scarlet-breasted Fruiteater - N Ecuador to Bolivia
Pipreola chlorolepidota
- Fiery-throated Fruiteater - S Colombia to Peru
Pipreola formosa
- Handsome Fruiteater - N Venezuela
Pipreola whitelyi
- Red-banded Fruiteater - Tepuis
Ampelioides tschudii
-
Scaled Fruiteater
- W Venezuela to Bolivia
Rupicola rupicola
- Guianan Cock-of-the-rock - N Amazonia
Rupicola peruvianus
-
Andean Cock-of-the-rock
- W Venezuela to Bolivia
Phoenicircus carnifex
- Guianan Red Cotinga - NE Amazonia
Phoenicircus nigricollis
- Black-necked Red Cotinga - W, SC Amazonia
Cotinga amabilis
- Lovely Cotinga - SE Mexico to Costa Rica
Cotinga ridgwayi
- Turquoise Cotinga - Costa Rica, Panama
Cotinga nattererii
-
Blue Cotinga
- Panama to NW Ecuador
Cotinga maynana
- Plum-throated Cotinga - W Amazonia
Cotinga cotinga
- Purple-breasted Cotinga - NE Amazonia
Cotinga maculata
- Banded Cotinga - SE Brazil
Cotinga cayana
- Spangled Cotinga - Amazonia
Procnias tricarunculatus
- Three-wattled Bellbird - Honduras to Panama
Procnias albus
- White Bellbird - NE Amazonia
Procnias averano
- Bearded Bellbird - N, E South America
Procnias nudicollis
- Bare-throated Bellbird - E, SE South America
Tijuca atra
- Black-and-gold Cotinga - SE Brazil
Tijuca condita
- Grey-winged Cotinga - SE Brazil
Lipaugus weberi
- Chestnut-capped Piha - NW Colombia
Lipaugus fuscocinereus
- Dusky Piha - Colombia to Peru
Lipaugus uropygialis
- Scimitar-winged Piha - SE Peru, Bolivia
Lipaugus unirufus
- Rufous Piha - S Mexico to NW Ecuador
Lipaugus vociferans
- Screaming Piha - Amazonia, E Brazil
Lipaugus lanioides
- Cinnamon-vented Piha - SE Brazil
Lipaugus streptophorus
- Rose-collared Piha - Tepuis
Conioptilon mcilhennyi
- Black-faced Cotinga - SW Amazonia
Snowornis subalaris
- Grey-tailed Piha - S Colombia to Peru
Snowornis cryptolophus
-
Olivaceous Piha
- Colombia to Peru
Porphyrolaema porphyrolaema
- Purple-throated Cotinga - W, SC Amazonia
Xipholena punicea
- Pompadour Cotinga - Amazonia
Xipholena lamellipennis
- White-tailed Cotinga - SE Amazonia
Xipholena atropurpurea
- White-winged Cotinga - E Brazil
Carpodectes hopkei
- Black-tipped Cotinga - SW Panama to NW Ecuador
Carpodectes nitidus
- Snowy Cotinga - SW Honduras to W Panama
Carpodectes antoniae
- Yellow-billed Cotinga - Costa Rica, Panama
Gymnoderus foetidus
- Bare-necked Fruitcrow - Amazonia
Querula purpurata
-
Purple-throated Fruitcrow
- S Nicaragua through Amazonia
Haematoderus militaris
- Crimson Fruitcrow - NE Amazonia
Pyroderus scutatus
- Red-ruffed Fruitcrow - N, NW, E, SE South America
Perissocephalus tricolor
- Capuchinbird - NE Amazonia
Cephalopterus glabricollis
- Bare-necked Umbrellabird - Costa Rica, Panama
Cephalopterus ornatus
- Amazonian Umbrellabird - W, C Amazonia
Cephalopterus penduliger
- Long-wattled Umbrellabird - Colombia, Ecuador
Incertae Sedis - Family Uncertain
Phibalura flavirostris
- Swallow-tailed Cotinga - SE South America
Calyptura cristata
- Kinglet Calyptura - SE Brazil