17 December 2011 23:15
Copyright: monacoeye • Pantanal, Brazil, August 2011 • Do not copy without permission

Bird name: Rufous Tailed Jacamar
Latin:
Galbula ruficauda
Other: Jacamará colirrufo (Es) • Ariramba-de-cauda-ruiva (Br)

Family:
Galbulidae
•
Jacamars
Range: Southern Mexico, Central America to Brazil (south of Amazon)
Similar:
I was pleased to see Rufous-tailed Jacamars on several occasions during my 5 days in the Pantanal.
Sometimes they would swoop in front of me, while I was walking on a forest path alone, and then alight on a nearby bare horizontal branch of medium thickness.
They would then perch calmly, or if I got too close, move to another similar spot. They seemed confiding and were good subjects and very photogenic. Sometimes seemed to be in mixed flocks too.
The male Rufous-tailed Jacamar, above, has a white chin and rich rufous belly, while the female, pictured directly below, has a paler belly and pale chin.
Curicaca Lodge in the Pantanal was very good for this bird. There was one at the start of the path behind the lodge (near the killer bees!) with a fair amount of light coming through the trees there.
Below, female Rufous-tailed Jacamar at Pouso Alegre, Pantanal, Brazil, August.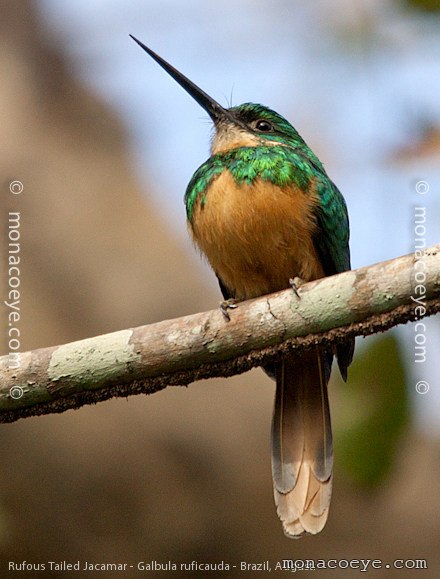 More photos...