01 January 2011 13:58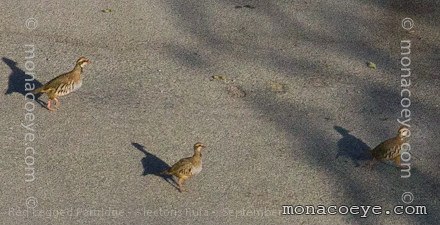 Copyright: monacoeye • Do not copy without permission : Alpes Maritimes, September

Bird name: Red Legged Partridge
Latin:
Alectoris rufa
Other: Perdiz roja (Es) • Perdiz-vermelha (Pt) • Perdrix rouge (Fr) • Pernice rossa (It)

Family:
Phasianidae
• Partridges
Range: Spain, Portugal, France, N Italy, UK (introduced)
Similar: Rock Partridge
A group of Red-legged Partridges spotted crossing the road at some distance. In the Alpes Maritimes, the Rock Partridge is also a possibility, and at this distance I couldn't be sure of the ID. One differentiator is the collar of the two birds. The countryside is overrun with hunters at this time of the year, so it's possible these were released.
More photos...
01 January 2011 13:57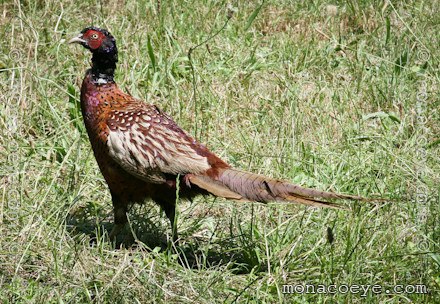 Copyright: TH/monacoeye • Do not copy without permission • Alpes Maritimes, June 2010

Bird name: Common Pheasant
Latin:
Phasianus colchicus
Other: Faisán común (Es) • Faisan de Colchide (Fr) • Fagiano comune (It) • Fasan (De)

Family:
Phasianidae
• Pheasants
Range: Russia, China originally, naturalised France, UK, Germany, Balkans etc
Originally introduced as a game bird but now naturalised in central Europe and bred worldwide - there is a big mix of Common Pheasant breeds. Bottom photo shows two males squabbling.
The Common Pheasant is indeed not that uncommon around here, especially on some small islands off the Cote d'Azur, but often quite shy and will hop away from a path as one appears. Usually seen making its way through fairly dense undergrowth, sometimes vineyards. Male, unmistakeable gorgeous plumage and long tail, and red facial skin and wattles. The females lack the red face and are less colourful but also have long tails.
Many thanks to Tania for the photos.
More photos...