20 December 2010 10:35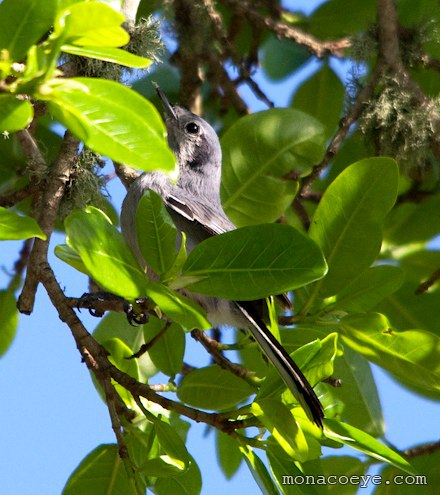 Copyright: monacoeye • Do not copy without permission • Lagoa do Peixe • Nov 2009

Bird name: Masked Gnatcatcher
Latin:
Polioptila dumicola
Other: Balança-rabo-de-máscara (Br) • Tacuarita azul (Es)
Family: Polioptilidae • Gnatcatchers
Range: North Argentina, Uruguay, Paraguay, Bolivia and south and central Brazil
The individual pictured is a female Masked Gnatcatcher, since she only has a dark patch behind the eye, not a full dark mask, and she has light, not dark, underparts.
This Masked Gnatcatcher seemed to be interested in the small plants (mosses?) growing on this fruit (fig?) tree, where she will have found small insects. Often cocks tail (below in "more photos").
More photos...